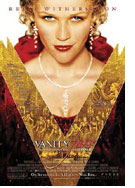 Vanity Fair - Jahrmarkt der Eitelkeit (Vanity Fair)
U.K./U.S.A. 2004
Opening 31 Mar 2005
Directed by: Mira Nair
Writing credits: William Makepeace Thackeray, Julian Fellowes, Matthew Faulk, Mark Skeet
Principal actors: Reese Witherspoon, James Purefoy, Jonathan Rhys Meyers, Romola Garai, Gabriel Byrne
Directed by Mira Nair (Monsoon Wedding), this adaptation of William Makepeace Thackeray's novel stars Reese Witherspoon, Gabriel Byrne, James Purefoy and Romola Garai.
Becky Sharp (Witherspoon) is the daughter of an English painter and a French music hall singer who is orphaned at a young age. Brought up at a girls' boarding school, she is clever enough to become governess at the run-down home of Sir Pitt Crawley (Bob Hoskins). She proves her talent not only in teaching but also in preparing the household for the visit of Sir Crawley's wealthy sister Lady Southdown (Geraldine McEwan). The elderly lady takes a liking to Becky and convinces her to leave her brother's house and become her companion. The relationship blossoms until Becky and Lady Southdown's favourite nephew, Rawdon Crawley (Purefoy), fall in love and marry in secret. From that moment on the young couple are condemned to a life of dwindling resources and goodwill, until the Marquis de Steyne (Byrne) – who collects paintings by Becky's father – steps in as benefactor. Unfortunately, his motives are not purely altruistic and, with time, Becky has to make the choice that will change the course of her life. Over the years, she enjoys one constant relationship: her friendship with Amelia Sedley (Garai) which, in spite of various trials, wins through in the end.
Having not read the book, I can not say how good an adaptation this is. My impression during the first half of the film was that Becky is a clever young woman who takes a healthy advantage of the opportunities that present themselves. Whether due to Witherspoon's acting or the role itself, I did not perceive her as a scheming conniver, bent on climbing the social ladder at all cost. She marries for love and is faithful through many difficulties; and I was enjoying the movie until… at some point around the middle I got lost. It was as though the second half of the story suffered from the editor's scissors; as if the producers wanted to pack in more than possible. Scenes and developments lost continuity; background characters stepped forward with increased significance for no apparent reason; and time sequences made no sense.
I also had difficulty with the choice of music for some passages; on the other hand I found the costumes and sets well done. However, all in all, the film was disappointing and easily forgotten. (Osanna Vaughn)