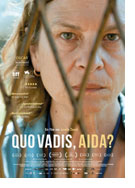 Opening 5 Aug 2021
Directed by: Jasmila Zbanic
Writing credits: Jasmila Zbanic, Hasan Nuhanovic
Principal actors: Jasna Djuricic, Izudin Bajrovic, Boris Ler, Dino Bajrovic, Johan Heldenbergh
Srebrenica was, until the 1990s, an unpretentious mountain town/municipality in eastern Bosnia mainly visited because of its wellness spa waters. However, during the Bosnian War (1992–1995), its global status escalated when Srebrenica's population increased disproportionately due to an influx of refugees from villages in central Drina valley. Besieged by Serbian forces, in April 1993 the United Nations (UN) declared the enclave a UN safe area—"free from any armed attack or any other hostile act"—guarded by a small Dutch unit of peacekeepers under the mandate of UN Protection Force (UNPROFOR). Thus, on July 11, 1995, as Bosnian Serb Army units of Republika Srpska (VRS) under General Ratko Mladic's command attacked, everyone was caught off guard.
Bosnian director Jasmila Zbanic was trapped in Srebrenica under siege during the Balkan war, and has always wanted to convey the town's story. About how once it was captured, the genocide began. For her narrative's protagonist Zbanic chose the Aida (brilliantly portrayed by Jasna Đuričić) character: wife and mother, an educator, and a UN interpreter whose inside knowledge requires hard choices during shocking, devastatingly traumatic escalating circumstances.
Srebrenica, July: with the Serbian army drawing nearer, the Dutch UN contingent reassure anxious delegates about their town's safety, and, that an ultimatum was issued threatening air strikes should Srebrenica be threatened. Nevertheless, a morning comes when tanks rumble down streets as the terrified population flees. Dutch Colonel Thom Karremans (Johan Heldenbergh) and Sergeant-Major Franken (Raymond Thiry) are aghast when terrorized citizens overrun the compound's inner confines, and then mill around its perimeters as far as the eye can see. Shocked, Aida frantically searches for Nihad (Izudin Bajrovic) and their sons (Dino Bajrovic, Boris Ler); eventually, they are united in the compound. Concurrently, Ratko Mladic (Boris Isakovic) orders troops to flush out anyone hiding in the town; ostensibly, negotiations commence; and, Mladic's emissary Joka (Emir Hadzihafizbegovic) arrives at the compound with soldiers under the guise of resettling people in Tuzla, a neighboring town.
Truth can be brutal. Over three days 8,372 innocents were systematically massacred. Zbanic's acute screenplay substantiated information: after interviewing Bosnian victims who implicitly also blamed Dutch soldiers, Zbanic then interviewed some of these UN soldiers in the Netherlands. She learned they were overwhelmed, some were just 18, and many unsure where, and why, they were there. Her perspective changed, "For me, that was touching that we are connected in this weird way."
Zbanic's worldly-wise rendition is palpable: its gritty sweat, tense fear, bleak trepidation, and painful heartbreaking despair. Christine A. Maier's edgy hand-held camera keenly positions the atrocities out-of-frame, e.g., men taken at gunpoint into a copse of trees overlooked by a young female UN soldier. Maier slyly catches inadvertent actions that speak volumes, e.g., tellingly, Mladic/Isakovic's scratching his testicles when he gets out of the jeep in Srebrenica; Joka/ Hadzihafizbegovic throwing bread to townspeople (perhaps that was inspired by seeing the U.S. president throwing paper towels to Hurricane Maria survivors in Puerto Rico in 2017). Implementing impeccable timing and pacing, Jaroslaw Kaminski's editing skillfully inserts these "aha" clips throughout. The award-winning Quo Vadis, Aida? was Bosnia and Herzegovina's entry for Best International Feature Film at the 93rd Academy Awards.
Jasmila Zbanic's message to filmgoers everywhere is, "That we are all human beings that sometimes don't see human beings in front of us. This story is not just about Srebenica but much more universal. It's everybody's problem." Facts bear out the perpetrator's fate will never substitute for the profound grief of those that survived. Aida returning to Srebrenica shows the soul-searching and conflicting emotions that still exists there. "Where are you going, Aida?" Worth remembering, is the director knows from first-hand experience. Worth doing, is to see this film. (Marinell Haegelin)