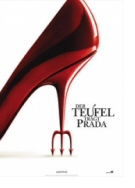 Der Teufel trägt Prada (The Devil Wears Prada)
U.S.A. 2006
Opening 12 Oct 2006
Directed by: David Frankel
Writing credits: Alina Brosh McKenna, Lauren Weisberger
Principal actors: Meryl Streep, Anne Hathaway, Emily Blunt, Stanley Tucci, Adrian Grenier
OK, I liked it. The clothes were to die for. They got the stress level right, the frantic pace, the adrenalin surges of an industry built on creativity and dreams and even got the bottom line in there. After all, the fashion industry is responsible for billions of dollars and millions of jobs, as fashion editor, Nigel (a wryly delightful Stanley Tucci) instructs Andy(Ann Hathaway), the new assistant to the Dragon Lady, Miranda Priestly (the formidable Meryl Streep). Yes, the rampant bulimia and anorexia in the industry is treated as a source of amusement here and alcohol, cocaine and other addictions, also wide-spread among people who invent dreams at terrible cost to themselves, is never mentioned. But addressing these and other issues of the industry was not the point. This is a Faustian comedy—not, as is apparent, a contradiction in terms.
Poor clueless Andy, She wants to be a journalist but somehow ends up at Runway Magazine applying for a job she doesn't even begin to comprehend nor, it appears, have the skill required--i. e. a passion for fashion. But as Andy explains, she's smart, and eventually she gets it…all of it. She is transformed from a sort of fat (well, she's a massive size 6) polyester-clad slob to a super model in the flick of Nigel's wrist and from that moment on, joins her colleagues in a jaw-dropping presentation of beautiful clothes, boots, shoes and handbags for the rest of the film (the product promotion in this film is stupendous.) Andy also manages her impossible job requirements brilliantly.
Miranda is the ultimate nightmare. Streep's withering looks, pursed lips, dismissive voice, ice-cold requests for the utterly impossible, all wrapped in mind-boggling furs, which she flings dismissively on the desks of her assistants, will go down in film history. This performance is a tour de force.
Andy's boyfriend is so wimpy and soft that it is impossible to credit the relationship. And the sexy writer, Christian Thomson (Simon Baker)? Forget it. He hasn't a dollop of the charm, intelligence and sheer power of the guys who really do write for New York Magazine, Vanity Fair,The Times and the other publications to which young Andy supposedly aspires.
But that is just carping. The film is an amusing fantasy about Meryl Streep as the Devil and all those clothes as the reward. The brilliant costume designer, Patricia Field (whose famous outfits on Sex and the City spawned an entire fashion revolution) deserves second billing right after Streep. (Adele Riepe)