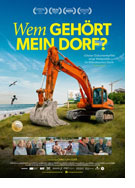 Wem gehört mein Dorf? (Who Owns My Village?)
Germany 2021
Opening 12 Aug 2021
Directed by: Christoph Eder
Writing credits: Christoph Eder

Just off Germany's northeast coast in the Ostsee/Baltic Sea is the island of Rügen in the state of Mecklenburg-Vorpommern. Filmmaker Christoph Eder's childhood was idyllic in Göhren, a Dorf/village where the community thrived to the tempo of the luxuriant nature around them. According to local resident Bernd, approximately 30-years-ago Göhren had 2,300 residents, whereas now there are only 1,200 with many properties rentals or summer homes as it is a popular resort destination. Eder's documentary is about greed, and "people power." And, it is personal. Money-grubbing developers destroying natural resources vs. what citizenry can do when they unite and agree that enough is enough.
Footage from 1993 shows how after buying a huge property on a wooded hillside, multimillionaire Wilfried Horst promptly cut down trees, preferring the view. Residents sum it up as, "Classic developer … classic capitalist;" and "Herr Horst kauft sich ein Dorf" (Mr. Horst buys himself a village.) For perspective: Wilfried Horst, from the landlocked state of North Rhine-Westphalia in Western Germany, has made millions in land deals ever since the Wall fell in 1989.
What residents are concerned about is a large tract of land, a nature reserve, land developer Horst and investors from south Germany have big plans for that would impact their charming village and lifestyle, conceivably ad infinitum. Most alarming is Horst seemly has four individuals on the town council, "four off the peg," in his pocket. Regular attendees at council meetings have watched them in action for years. This is why Bernd and activist daughter Nadine unite with other like-minded residents to (try to) stop them in the upcoming mayoral and town council elections. They formulate a peoples' initiative, and through considerable community organizing, election day dawns with everyone on both sides holding their breath.
Editor Patrick Richter impressively and cohesively assembles archival footage and Domenik Schuster's attention-grabbing, evocative camerawork with Michael Holz and Ludwig Müller's sound work that Anna Kühlein's music accentuates, compliments. Christoph Eder's engrossingly comprehensive look at shenanigans in Rügen serves to highlight widespread activities existing in current societies. It is an eye-opener showing synergy at its best. (Marinell Haegelin)