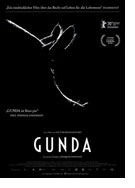 Opening 19 Aug 2021
Directed by: Viktor Kosakovskiy
Writing credits: Viktor Kosakovskiy, Ainara Vera

A light breeze sways foliage-dense branches where birds chirp, and a cuckoo's distinctive call, along with scattered traffic, is heard at a distance. Distinctly deep, low, steady breathing tempered by the buzzing of flies draw attention to a shed opening where a sow's head is barely visible. Hence, Russian director Victor Kossakovsky (Aquarela, 2018) introduces the eponymous Gunda, star and heroine of this simple, unhurried yet compelling-to-watch documentary.
As squealing piglets tumble out of the shed's opening, we register Gunda is giving birth. Transfixed, we see numerous newborn piglets wiggle, squiggle, and fight for a place at mama's teat. This contrasts distinctly to encountering rascally roosters and cluck-clucking hens scratching in morning sunlight. Although challenged, the thick plumaged "one-leg" navigates a firmly steady course to open fields. Next, cows rush from the barn prancing and frolicking playfully toward pastureland, where they lazily masticate low-hanging leaves while lowing contentedly. Nevertheless, Gunda and the expeditiously growing piglets command our attention. They are never far away, until abruptly, most are.
Norwegian cinematographer Egil Håskjold Larsen and Victor Kossakovsky filmed in B/W on farms in England, Spain, and Norway (drone cameras/operators helped film the livestock). Their camerawork focuses on the minutia of farmyards, giving audiences a unique experience. Alexander Dudarey recorded, and artfully designed, the sound in Gunda; its "dialogue" emotively fluctuates as time progresses. Kossakovsky's editing, however, is patchy: the hens and cows appear onscreen only once, briefly—why bother, and footage of the sow trampling her newborn was unnecessary.
Kossakovsky's point is clear: humans' need to redefine and evaluate their treatment of (most) animals. His impartial, and far from dichotomous viewpoint is a stark reminder why. Most small farmers practice good animal husbandry, whereas corporate farms prioritize profit – animals are merely part of the feed-the-masses food chain, albeit corporations foolishly forget the masses can hold their actions accountable. This purely authentic experience offers close-up, astonishing views of nature's sentient creatures, great and small, at home. (Marinell Haegelin)