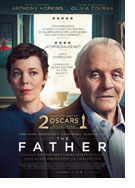 Opening 26 Aug 2021
Directed by: Florian Zeller
Writing credits: Christopher Hampton, Florian Zeller
Principal actors: Olivia Colman, Anthony Hopkins, Mark Gatiss, Olivia Williams, Imogen Poots
The Father is a bold, excruciatingly bittersweet and painful account of an elderly parent's balance on a slippery-slope that, inevitably, will tilt into dementia. Based on French director Florian Zeller's award-winning play, Le Père, he co-wrote the screenplay with fellow playwright Christopher Hampton for what is Zeller's directorial debut.
Anne (Olivia Colman) is in a quandary. Her headstrong, aging father not only refuses any help, the octogenarian antagonizes caregivers into quitting. On the verge of moving to Paris with Paul (Rufus Sewell), she is desperate. Whereas, Anthony (Anthony Hopkins) just wants to live in his own flat undisturbed. Except, shifting from frustration to disorientation, he launches accusations that horrify and hurt Anne. Luckily, as Anne holds her breath, the new applicant Laura (Imogen Poots) seems able to cope with Anthony's mood-swings. Anthony's confusion deepens: his flat becomes hers; strangers come/go (Mark Gatiss, Olivia Williams); his watch keeps disappearing, and Anthony finds Paul overwhelming. The visit to Dr. Sarai (Ayesha Dharker) renders Anthony limp, scared. Views from windows shift; things keep changing places; a closet opens into a hospital corridor; unconscionable thoughts haunt Anne. As Anthony drifts aimlessly, Anne consults Dr. Sarai, while, understandably, Paul pushes onward.
In 2014, writers-directors Richard Glatzer and Wash Westmoreland's courageous film, Still Alice, starred Julianne Moore as a linguistics professor grappling with Alzheimer's early onset; Moore received the 2015 Oscar® for Best Actress. Zeller, instead of looking in from the outside, impressively astounds by positioning us looking out through Anthony. He ingeniously utilizes the main apartment setting and props (Peter Francis, production design), costumes (Anna Robbins) and maneuvers people so that audiences experience the father's uncomfortable, acute discomfiture. So convinced was Zeller that only Hopkins play Anthony, after sending him the script in 2017 Zeller waited until Hopkins' schedule cleared. Cinematography by Ben Smithard, Yorgos Lamprinos edits, and with Ludovico Einaudi's music.
Anthony Hopkins' plucky performance is excellent, and deservedly won Best Actor at the 2021 Academy Awards. His subtly-emphasized altered physicality, and facially nuanced range of emotions are awe-inspiring: annoyance and incredulity, tricky merriment, confusion and despair, startling outbursts, flashes of lucidity, seemingly selective dementia, childish reactions, and grasping, gasping to remember are tangibly, terrifyingly accurately portrayed. Olivia Coleman's insightfulness as daughter Anne artfully conveys the tightrope of her pain, hope, stress, and fear, while simultaneously negotiating a life for herself without crumbling under the weight of guilt.
Zeller powerfully, and poignantly, shows dementia's effect without being depressive, or pandering to sentimentality. It is gut-wrenching to watch Anne watching helplessly her father's disintegration into a netherworld that has no place for her, and, Anthony's bewilderment and then emotional breakdown. Contrarily, to experience this powerful and poignant film stirs up one's conscience about human's frailties, and how anguish is mutually felt agony. "Who exactly am I?" Unsurprisingly, by the end we feel gaslighted too. (Marinell Haegelin)


Second Opinion

The Father is the first film by acclaimed French playwright, Florian Zeller for which he also won an Oscar for best adapted screenplay. It has the feeling of a play, as almost all the action is confined to a lovely apartment where the aging father (Anthony Hopkins) lives, cared for by his daughter, Ann (Olivia Colman). However, almost immediately we know something is wrong, the way he gingerly touches a couple random notes on the well-worn piano, or abruptly pulls off his headphones while listening to opera. Then scenes repeat themselves with different characters and different outcomes. Where is the story? Are we being played and deceived?
We are seeing the world from the eyes of the father. It is a frightening view of inescapable consequences, that affect one's perceptions, even vision, causing distrust and confusion, associated with the onset of dementia. We become the father, thanks to Hopkin's amazing (best actor Oscar 2021) performance, as he tries to navigate these contradictions, fighting and eventually acquiescing. Colman`s (Oscar nominated) role, in contrast is a mourning of loss, for instance, when she lovingly touches the fabrics in his closet, trying to get close to him in any way now left to her.
Along with Hopkins and Colman, opera music is a major actor in the film. Favorite arias with themes of "pleading to a greater power outside oneself" dramatically fit, and add beauty and universal integrity to this generational tragedy. Yet Mr. Zeller proves to be a real family man. The Father was preceded by his 2019 play, The Mother (starring Isabelle Huppert) and please look forward to his coming film, The Son, with Hugh Jackman and Laura Dern!
Opera Music in The Father:
Purcell, "What Power Art Thou" from King Arthur
Bellini, "Casta Diva" from Norma sung by Maria Callas
Bizet, "Je Crois Entendre Encore" from The Pearl Fishers (Nancy Tilitz)