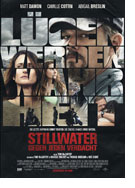 Stillwater - Gegen jeden Verdacht (Stillwater)
U.S.A. 2021
Opening 9 Sep 2021
Directed by: Tom McCarthy
Writing credits: Tom McCarthy, Marcus Hinchey, Thomas Bidegain, Noé Debré
Principal actors: Matt Damon, Camille Cottin, Abigail Breslin, Lilou Siauvaud, Deanna Dunagan
This is a love story, if you love Matt Damon. The idea that Matt Damon actually spent time with Kenny Baker, a real oil rig worker from Oklahoma, to learn his method of being Bill is an injustice to the real Baker boy. Damon does Bill with an "awe shucks", I'm a guy attitude, head bowed to prayer before meals, wearing plaid shirts with a baseball cap, proudly owning more than one gun with such gusto that he pushes stereotype to surround-sound nonsense.
Bill is laid off from the oil rig, so on a visit to his daughter Allison (Abigail Breslin), who is in prison in Marseille, France for murdering her female lover, he decides to stay awhile to solve the mystery of who the real murderer is. He picks up construction work and a vivacious French woman called Virginie (Camille Cottin), a single mom with a darn cute little girl Maya (Lilou Siauvaud, who gets one star for this film). Virginie, who has an apparent history of lost causes, takes Bill in while he follows new clues in his daughter's case. Deadpan Bill inexplicably delights Maya, and predictably but inscrutably Virginie, as they morph into a perfect family. After an eternity killing time around Marseille, Bill gets lucky and the plot twists, snapping me out of a short nap. Perhaps McCarthy was inspired by the real-life Amanda Knox murder case to make another film about something, but there his inspiration ended. Knox has nothing to complain about; this lost cause has nothing to do with her. (Mary Nyiri)


Second Opinion

Loosely based on the true story of the American student, Amanda Knox, who was wrongfully imprisoned over the murder of her British roommate in Italy, Stillwater tells the harrowing story of a father's quest (played by Matt Damon) to free his daughter (Abigail Breslin).
Directed by Tom McCarthy, the director behind the critically acclaimed films such as Spotlight (2015) and The Station Agent (2003), Stillwater mostly takes place in the coastal town of Marseille, France. Here, Matt Damon's character, the Oklahoma roughneck Bill Baker, does his best to prove his daughter's innocence while not being able to speak French. No easy feat, to be sure.
Damon, as always, throws himself into his characters, and Bill Baker is no exception. Trying to redeem himself as a deadbeat dad to his imprisoned daughter, Allison, Bill overcomes incredible obstacles as he acclimatizes to a new country and culture.
What I found most touching was the side storyline with the French family he ends up living with, Virgine (played by Camille Cottin) and her nine-year-old daughter, Maya (played exquisitely by the newcomer Lilou Siauvaud). Superb in their supporting roles, the scenes between Maya and Bill proved to be some of the best moments in the film.
Although I enjoyed the film, particularly as an American who lives in Europe, I found it far too long (140 minutes). I think it could have easily been shortened by a half hour and still would have captured the story well. I also didn't necessarily buy Breslin's performance.
Ultimately, Stillwater did a stellar job of showing the lengths a father will go to for his child, thanks to Damon's quiet strength and perseverance. (Erin Huebscher)