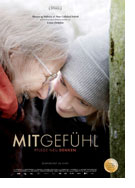 Mitgefühl (It Is Not Over Yet, Det er ikke slut endnu)
Denmark 2021
Opening 23 Sep 2021
Directed by: Louise Detlefsen
Writing credits: Louise Detlefsen

Inspired at 17, May Bjerre Eiby became a nurse; years later, her father's dementia and subsequent move to a nursing home expedited his death, she believes, due to loneliness. Determined, May redirected her energy into reality: Dagmarsminde. The tidy, well-laid-out plant-and-sun filled care home for people cognitively impaired, or memory challenged, requiring long-term care edges a forest. It Is Not Over Yet is a lovely look at what could be, and proof positive the difference tender, loving care makes.
Opened in 2016 as an alternative to larger, for-profit nursing homes, Dagmarsminde's staff tends to 11/12 patients applying a "compassion care" prescription. They know each patient's background, dispense cuddles and hugs instead of medications, and many activities promote companionship that instills camaraderie. Patients are clean, dressed nicely with clean hair, some women's nails are polished, and many manage for themselves. (Anyone who thinks this normal has never been in a standard nursing home, much less one for severe cognitively impaired patients.) Residents are allowed to walk outside (unattended) where chickens roam, and the resident cat and dog mosey about. Most insightful are the regular staff meetings to discuss patients' behavior, prognosis reports, and/or resolve any issues; they consult their doctor regularly.
Having the table bedecked with flowers, small Danish flags and cakes, drinks and, the seemingly preferred, Sekt (sparkling white wine) is customary. When a resident dies, the others send their friend's casket off with a song and toast. Dagmarsminde's family-centric approach imbues dignity and self-respect, allowing patients the right, and confidence, to make decisions. Ironically, most residents receive state pensions. While celebrating Grethe's last birthday, most poignant are home-movies her family provided emphasizing how quickly life passes.
Danish writer-director Louise Detlefsen, with a crew of one, Per Fredrik Skiöld, husband/cinematographer, spent one year vérité style filming Mitgefühl/Compassion. Skiöld's inclusive, observant camerawork is respectfully sensitive, curious, and supportive. Detlefsen explained she daily re-explained what the filmmakers were doing and again asked for patient's permission, or if necessary, stopped filming at the drop of a hat. By the time Covid-19 hit, the filmmakers were far enough along to smoothly make adjustments; fortunately, the residents were oblivious of the world's pandemic.
The premise of this endearing, sometimes funny, always informative documentary is a mind-blowing alternative that Western societies need, and not only for eldercare. As an aside, young-onset Alzheimer/dementia has increased 131% per 10,000 adults (30-64 years) from 2013 – 2017. It is imperative societies start rethinking long-time care; for-profit institutions obviously will fight against this. Eiby refers to Dagmarsminde as, "…creating another culture." It is not over yet; hopefully it is just the beginning. (Marinell Haegelin)