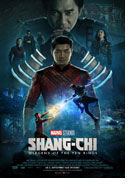 Shang-Chi and the Legend of the Ten Rings
U.S.A./Australia 2021
Opening 2 Sep 2021
Directed by: Destin Daniel Cretton
Writing credits: Dave Callaham, Destin Daniel Cretton, Andrew Lanham, Steve Englehart, Jim Starlin
Principal actors: Simu Liu, Tony Chiu-Wai Leung, Awkwafina , Fala Chen, Michelle Yeoh
The magical Ten Rings legend transverses centuries with supplementary elaborations, albeit with one exception, at its center is always one man. Wenwu's, a.k.a. the Mandarin (the charismatic Hong Kong superstar Tony Leung Chiu Wai), lust for power is unquenchable. Immortal, for thousands of years his brutality as leader of the Ten Rings impacted history the world over. Until, in the 1990s and in pursuit of even more control, he enters a dense, green forest. A startling encounter with a mysterious person becomes an appointment with destiny, as love takes its course. So is the tale Jing Li (Fala Chen) relates to young son Shang-chi (Jayden Zhang).
Present-day San Francisco: buddies for years, Sean (Simu Liu) and Kate (Awkwafina) settled for low-key jobs and a non-stress lifestyle, prior to the bus ride into Sean's past. Astounded by her fun-loving, charming companion's command, purpose, wit and martial skills, Kate learns about estranged sister Xialing (Meng'er Zhang) in Macau, and Sean's real name, as a really bad dude (Florian Munteanu), intent on extracting pain, closes in on them. With help from Trevor Slattery (Ben Kingsley) and his pet, Kate eventually meets Shang-chi's formidable aunt (Michelle Yeoh), and stubborn father Wenwu, besides having the adventure of her life. For Shang-chi, however, to move forward he must confront his tempestuous past. For audiences, it means a fluid timeline where genres, effects and motifs—think fire-breathing—tell the tale led by the family patriarch.
The Marvel Cinematic Universe (MCU) introduces its newest superhero via a love story, immersing audiences into the enthralling, evocative Shang-Chi and the Legend of The Ten Rings. Created by Steve Englehart, writer and artist Jim Starlin in the 1970s, in the 1980s Stan Lee discussed the possibility of Shang-chi being Marvel's first Asian lead. Marvel Studios thoroughness toward authentic exploration and representation of Asian/Asian-American themes replicates its approach to Black Panther in 2018. The studio hired Japanese-American Destin Daniel Cretton to direct, who concentrated on creating a non-stereotypical world as a paragon for young Asians. Admitting it was the first time he was, "Writing from my own experience, from my own perspective," Chinese-American Dave Callaham wrote a modernized screenplay with Cretton and Andrew Lanham based on Cretton and Callaham's idea. Myth, humor, and moral aspects dovetail to promote a positive Asian identity.
Superb casting by Sarah Finn enabled comic figures to materialize as full-blown complex characters. Particularly the multi-dimensionality Tony Leung brings to Wenwu, Simu Liu's (gained 4,5 kg [10 lb.] muscle to do [most of] his own stunts) artless vulnerability mixed with confused shrewdness in addressing Shang-chi's past/future, and Awkwafina's Kate oozes moral strength, courage, and loyal commitment. Kingsley is funny, and Benedict Wong commanding. Production values affirm MCUs preeminence: Bill Pope, cinematography; Joel P. West, music; Elísabet Ronaldsdóttir, Nat Sanders, Harry Yoon's fantastic editing; Kym Barrett, costumes; Chinese choreographers designed sophisticated wǔxiá action scenes; plus, stellar art direction and striking sets, stunts, and special/visual effects by artists in numerous studios.
Shang-Chi and the Legend of The Ten Rings expands the MCU with a rich story so entertaining and emotionally expressive we cannot help but root for these newest characters. Additionally, Marvel adds to the fun with two Shang-Chi supplements during end credits, hinting at future thrills. "Welcome to the circus." (Marinell Haegelin)