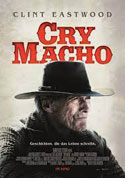 Opening 21 Oct 2021
Directed by: Clint Eastwood
Writing credits: Nick Schenk, N. Richard Nash
Principal actors: Clint Eastwood, Dwight Yoakam, Eduardo Minett, Fernando Urrejola
Retired Texan rodeo star Mike Milo (Clint Eastwood) is hired by his former boss Howard Polk (Dwight Yoakam) to bring his adolescent son, Rafael "Rafo" Polk (Eduardo Minett) to America. Howard wants to rekindle a relationship with Rafo, but his mother Leta (Fernanda Urrejola), who lives in Mexico, refuses to allow Rafo to leave her clutches and wards-off any attempt Howard has made to retrieve Rafo over the years.
Howard and Leta are divorced and wealthy. Sadly, each use Rafo as a pawn for financial gain. Unfortunately, Leta isn't the doting mother Rafo needs and has allowed her son to be abused by her hired-help causing Rafo to flee from a house of terror to live on the streets. His survival is cockfighting with the help of his famous rooster named Macho. Rafo's rooster is more than a fighter for money, it is also a protector of Rafo when in trouble.
Milo's journey to retrieve Howard's son isn't as easy as he was told. Milo realizes that his macho rodeo status has little influence on Rafo but over time his story has a greater impact. Once Rafo agrees to be taken to the U.S.­–Mexican border to meet his father, a race to the border-line-finish occurs to avoid Leta's henchmen and the Mexican police who are bent on returning Rafo to Leta.
Milo and Rafo's escape route takes them on a journey through Mexico where they have time to discuss the meaning of macho, discover a new identity, and find refuge in a tiny obscure village at the hand of Marta.
American novelist and screenwriter N. Richard Nash published his book Cry Macho in 1975. The story was originally written as a screenplay under the title Macho. Nash tried to sell his screenplay but with no luck, so he later adapted his story into a novel. Nash recalls, "I had a screenplay called Macho that no one wanted." Adding, "It occurred to me to do a quick novelization. I received a $10,000 advance and completed it as Cry Macho in two weeks. It got surprisingly good reviews! Instantly, three studios, all of which had rejected the screenplay, started to bid for this awful, little thing." Continuing, "When they asked me to do the screenplay, I gave them what they had rejected. I didn't change a word and they loved it."
The attempt to adapt the screenplay Cry Macho into a feature narrative has finally come to fruition with Clint Eastwood directing, producing and acting in the adaptation of the novel for Warner Brothers Pictures and HOB Max, collaborating with screenwriters Nick Schenk and N. Richard Nash. (Karen Pecota)