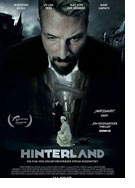 Opening 7 Oct 2021
Directed by: Stefan Ruzowitzky
Writing credits: Robert Buchschwenter, Hanno Pinter, Stefan Ruzowitzky
Principal actors: Murathan Muslu, Liv Lisa Fries, Marc Limpach, Max von der Groeben, Maximillien Jadin
Director Stefan Ruzowitzky has crafted an intricately sinister storyline co-written with Robert Buchschwenter and Hanno Pinter into a twisting and turning tale of intrigue; with red herrings and U-turns its suspense builds, then bursts. Set at the end of the Great War, Hinterland's subtly hostile sub-story scrutinizes peoples' biases, prejudices, reactions and attitudes that slither just beneath the facade of decency, as the main story's protagonists probe what turns into a series of fiendish deaths. Its production values are astounding, displaying an extremely effective and clever, artistically creative use of tools now available to filmmakers.
Hallow-eyed, gaunt, and worn-out formerly held prisoners of war return home from Russia amongst teeming dockside throngs, and a cacophony of unfamiliar sounds. 1920. Vienna, Austria, is reeling from political, societal upheaval in the developing republic following the Austro-Hungarian Empire's collapse. After seven long years and starkly aware of being a stranger in his hometown, Peter Perg (Murathan Muslu) herds his small group (Aaron Friesz, Trystan Pütter, Stipe Erceg, Konstantin Rommelfangen, Lukas Walcher, Nilton Martins) through controls, then disperse; Peter heads for home … or whatever remains. The building's caretaker (Margarethe Tiesel) lets him in, informing him his wife fled to the countryside with their daughter long ago. Meanwhile, through a victim, Polizeirat Victor Renner (Marc Limpach) discovers Perg's whereabouts; ignoring subordinate Paul Severin's (Max von der Groeben) objections, Renner requests the former detective's support. Remembering Perg's venerable reputation, the young coroner Theresa Körner (Liv Lisa Fries) willing collaborates. Especially as the enigmatic deaths mount. Perg's patience is exemplary; although rusty, his acuity returns, together with a foreboding that this is personal. The payoff is disconcerting, dangerous, and not all is what it seems.
Murathan Muslu's stunning, intense performance with that of the outstanding cast resonates against the grimly fractured, murky, and desolate Vienna background. Hinterland's skewed, bizarre settings, lighting and camera angles reflect the psychological damage of its protagonists, and the country's turmoil; Robert Wiene's 1920 silent film masterpiece, The Cabinet of Dr. Caligari, influence is apparent. Caligari epitomizes German Expressionist cinema, and its impact worldwide, like Sergi Eisenstein's Battleship Potemkin, influenced emerging filmmaking genres. Also, Caligari is a staple of film schools/societies and museum screenings.
Filmed to a great extent with blue screen technology, Benedict Neuenfeis' thrilling cinematography, Oleg Prodeus' awesome visual effects and Andreas Sobotka and Martin Reiter's set-designs, plus the makeup and costume departments brilliant work merge to depict that chilling, discombobulated world. Oliver Neumann edited, sound design by Nils Kirchhoff and accompanied by Kyan Bayani's music. A short 99-minutes, the last section needed more time for a revelatory, balanced finale.
Hinterland centers on a historical period when, as a country's morals hemorrhage people hurriedly attempt to redefine ethical positions. Noteworthy is Muslu's mesmerizing central performance that ensures audiences' seeing Perg's elemental understanding and reasoning, and redeemable compassion and hope reemerging from the hinterland of his war-torn mind. (Marinell Haegelin)