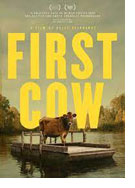 Opening 18 Nov 2021
Directed by: Kelly Reichardt
Writing credits: Jonathan Raymond, Kelly Reichardt
Principal actors: Alia Shawkat, John Magaro, Dylan Smith, Ryan Findley, Clayton Nemrow
Filmmaker Kelly Reichardt has this thing for Oregon. The former Floridian has made five films there, and First Cow is her most recent one. It is a gentle gem, a noble western saga. Reichardt introduces the film with one of William Blake's Proverbs of Hell: "The bird a nest, the spider a web, man friendship." It's a slow-paced tale about two men living on the scrappy edge of frontier society who meet and form an unlikely alliance and a deep friendship.
Cookie (John Magaro) is a soft-spoken, meek man who was born on the east coast, orphaned young, and became an indentured servant to a master cook. In a deep dark forest in the Oregon Territory (forests suffocated the western regions in the 1820s) while foraging at night for mushrooms he discovers a man on the run, King-Lu (Orion Lee), and helps him escape his Russian pursuers. Street smart if not jaded, King-Lu had fled from China as a youth and had been to all the world capitals before finding his way to the Oregon Territory. King-Lu is eloquent and wise; he has seen and done it all. His whole life he has been looking for a break, an angle, some way to earn his fortune. By contrast Cookie seems to be a man too good for this world. When he discovers a salamander on its back by the riverside, he gingerly picks it up to turn it over so it can survive. In a saloon at the settlement when all go outside to watch a brawl, he stays behind to coo an abandoned baby.
Cookie and King-Lu's paths cross again at Fort Tillicum, a rough, muddy, and uncivilized place at the heart of the waning beaver trade. One man has certainly come out on top, Chief Factor (Toby Jones). He is a wealthy Englishman determined to live the life of a country gentleman in this primitive outpost. To fulfill that dream he sends away for three cows, however only one survives the long trip from California. She is the first cow to come to these parts, and she is a beauty. One of the most picturesque shots in the film is of the cow (Evie) riding along majestically on a small. raft-like ferry on her way to her new home.
King-Lu sees the cow and senses the opportunity to hit it rich. He convinces Cookie to sneak into Chief Factor's pasture to milk the cow at night to make delectable oily cakes by day to sell to the local trappers. The law of supply and demand means they quickly accrue a small fortune which they shrewdly hide up high in a tree. Their dream is to escape their lives of degradation and poverty and buy a small hotel in San Francisco. As a filmgoer it's impossible not to get emotionally snared in their risky scheme as they struggle against all odds for a better life. (Pat Frickey)