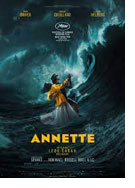 Opening 16 Dec 2021
Directed by: Leos Carax
Writing credits: Ron Mael, Russell Mael
Principal actors: Adam Driver, Marion Cotillard, Simon Helberg, Devyn McDowell, Angèle Van Laeken
French director Leos Carax always wanted to make a musical film, as have American pop and rock duo, The Sparks. Ron and Russell Mael came close: with Tim Burton in 1980s, Francis Copola in 1990s, recorded the 1998 soundtrack for action-film/KNOCK OFF, and released a radio musical in 2009 they hoped would metamorphose into a feature film. Hence, by melding these three artistic mindsets the eponymous Annette, like a breath of fresh air in moviemaking, was created.
"May we start?" comes on the heels of a procession. The Sparks Band exits the recording studio, are joined by the lead protagonists, Carax, et al. singing the film's overture. Enroute, the stars change into costume so at Orpheum Theater all sing, "Bye Henry" leaving The Ape of God for a performance. The acerbic stand-up comedian/insulter, Henry (Adam Driver) pounces at life, whether issuing insulting tirades of personalized vulgarity onstage while defaming societal temples, or racing carelessly, thoughtlessly on his motorcycle. Henry sardonically disparages everyone. Whereas, the poignantly pitched opera singer, Ann (Marion Cotillard) exudes warmth, considerations and conscientiousness enthralling fans worldwide. Chauffeured to/from life's engagements, she is universally adored. Polar opposites attract: They marry at the pinnacle of his/her career; "We love each other so much." Newscasters salivate when Ann gives birth; "She's out of this world, welcome to the world, Annette." But. Things change. Ann tours abroad accompanied by Conductor (Simon Helberg). Henry's fathering falters, hits a skid; Ann laments, "I'm worried about you." A getaway gets its way, and then there are two. Until, the magical lamp shines. Baby Annette's voice is angelic; Henry perks up. Conductor conducts a whirlwind European tour. A quiet Annette grows quizzical, acclimates, performs, accommodates. Newscasters gloat. The finale is the fateful, final straw.
The onetime film critic's first film, Boy Meets Girl (1984), established his mature visual style and penchant for challenging love stories in contemporary society. Yet, Carax's meager—15 shorts/music videos/features since 1980—oeuvre is an amalgamation of the strange, preposterousness incarnate, and masterful. Whereas, since 1971 the Sparks brothers' genius has been continually creating unconventional styles that have influenced numerous genres, singers and bands. California natives, their eclectic, somewhat eccentric upbringing was during the LA club scene's "Golden Age" of talented musicians. Deadpan Ron Mael, keyboards and lyrics, studied cinema, graphic arts at University of California Los Angeles, while lively Russell, the versatile vocalist, studied theatrical arts and filmmaking. Unsurprisingly, the Sparks and Leos Carax's zaniness, theatrics, risk taking melded with the result akin to 'a marriage made in heaven' in Carax's first English-language film. Carax also sang a track on their Hippopotamus album in 2017.
Zany, fantastically bizarre, Annette's overture portends some major calamity, oratorical frankness, and originality. Its acting is impeccable, production values sterling, and music brilliant; using a puppet metaphorically for baby Annette to insinuate profound, fundamental problems is brilliant. After reviewing Edgar Wright's amazing documentary, The Sparks Brothers, my expectations for an uncommon experience were rewarded. (Marinell Haegelin)


Second Opinion

Annette is an utterly weird romp of a tale, an operatic pop musical that alternates between being philosophical and campy. It's the kind of movie I think most people will either love or hate, a chaotic work of art that some will find intoxicating and others will find offputtingly bizarre. Set in contemporary Los Angeles, Annette stars mesmerizing actors, and tells an absolutely meta story about performers; it's completely self-referential and breaks the fourth wall at the very start, before building it back up to regale us with a gothic tale of tragic love.
This is a love story between two performers who meet at the height of their careers. Henry McHenry (Adam Driver) is a performance artist who uses the cloak of being a "comedian" to tell horrible stories and engage in violent antics. As the film begins, Henry reveals to his audience that he's fallen in love with opera singer Ann Defrasnoux (Marion Cotillard), a reigning star who's the lovely feminine yin to his brooding masculine yang. The movie follows their courtship and marriage, with playful interludes from a tabloid news show that obsesses over their relationship. Henry and Ann's story, told in song, is a story of control and destruction, of passion that dissolves into resentment, manipulation, and violence. But it's not all operatic doom and gloom! Annette is also funny and sexy and so absurd and over-the-top that it is impossible to look away. The lyrics are often unexpectedly catchy despite being banal and ridiculous, with Henry and Ann singing while having sex and giving birth. Plus, the couple's daughter, the titular Annette, is played by a creepy little puppet with uncanny talents inherited from her mother.
There's very little subtext in this movie, where pretty much everything is visible on the surface, including a black mark on Henry's face that grows larger along with his destructive tendencies. Driver is a decent singer and an endlessly charismatic performer whose leading-man allure and oddball tendencies are on full display here; an actor who seems capable of anything, Driver in particular draws the viewer into the film's stylized dystopia. Annette got completely under my skin. I'm not in any rush to re-watch it, but I think it will stick with me for a long time. (Diana Schnelle)