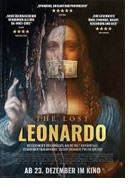 Opening 23 Dec 2021
Directed by: Andreas Koefoed
Writing credits: Andreas Dalsgaard, Christian Kirk Muff, Andreas Koefoed, Mark Monroe, Duska Zagorac

The art world consists of sleeper paintings (obscure works that suddenly attain unexpected notoriety, then success), and sleeper hunters (self-explanatory). The film's title will attract art aficionados, albeit, this "most improbable story in the art world" is an unadulterated contemporary thriller. The facts: One painting, two sleeper-hunters and an art restorer; wily characters, art authorities, and the sting (not the 1973 caper movie), interested international journalists, law enforcement and retribution, with just as many conflicting viewpoints.
New Orleans, Louisiana, 2005: The Salvator Mundi, or Male Mona Lisa, was purchased for $1,175.00 by Alexander Parish and Robert Simon; as a matter of course it was inspected by respected, world-renowned art restorer Dianne Modestini—they were taking no chances. This insidery film tracks the "last vestiges of wild, wild west," delivering us into the hallowed halls of Christie's London while the painting is auctioned for a whooping $450 million (€ 403m). Warren Adelson (USA), Yves Bouvier (Switzerland), Frank Zöllmer (Germany), Luke Syson (UK), Maria Teresa Fiorio (Italy), Jacques Franck (France), and Americans Evan Beard (Bank of America), Robert K. Wittman (FBI) and Doug Patterson (CIA) are but a few interviewed as suspenseful tension escalates around this zinger of a tale. Many condemn the "lost Leonardo" as fake, or a lousy painting; regardless, after the auction it disappeared.
Danish director Andreas Koefoed juggled the character-driven human-interest aspects with the malfeasance and shenanigans of participants within the art world in this spellbinding documentary. Editor Nicolás Nørgaard Staffolani's three-part chronological structure helps audiences keep track of the moneyed and powerful—some are noxious elitists, and institutions and authorities although focus on Salvator Mundi slips amongst emphasis given the free ports, oligarch, and crown prince.
Peeling back layer upon layer of motives and vested interests, what is telling is truth and accuracy becomes secondary to human immoralities and vanities, and greed. Like the Salvator Mundi, The Lost Leonardo raises as many questions as it answers, which makes this sleeper well worth one's while. (Marinell Haegelin)