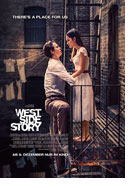 Opening 9 Dec 2021
Directed by: Steven Spielberg
Writing credits: Tony Kushner, Arthur Laurents
Principal actors: Ansel Elgort, Rachel Zegler, Ariana DeBose, David Alvarez, Rita Moreno
Steven Spielberg's name is synonymous with entertaining, and enlightening films, e.g., humanizing aliens in E.T. the Extra-Terrestrial (1982), reminding people good Germans existed during Nazi's regime in Schindler's List, (1993 [Spielberg received Germany's Federal Cross of Merit with Ribbon in recognition in 1998]), and here that xenophobia and bigotry is a trademark of the undereducated, unemployable. The three-time Oscar® winner's hallmark permeates this remake of the classic West Side Story. Tony Kushner's screenplay adheres to Laurents' original story's gritty realism, adding updated dialogue with 40% in Spanish.
As mid-1950's urban renewal diminishes the size of their turf, rival gangs in NYC are embittered, emboldened. The White Sharks, led by Riff (Mike Faist) and Bernardo's (David Alvarez) Puerto Rican Jets spar regularly, and then dodge Officer Krupke (Brian d'Arcy James) and Lieutenant Schrank (Corey Stoll). Rousted once too often, Riff proposes a rumble; he and Bernardo can talk at the mixer later. Going to the drugstore—neutral territory—to see best friend, and ex-Shark, Tony (Ansel Elgort), Valentina (Rita Moreno, played Anita in 1961 film), the owner, runs him off convinced he badly influences Tony, whom she believes in. Feisty Anita is (Ariana DeBose) quick to run interference against boyfriend Bernardo's machismo attitude toward Maria (Rachel Zegler); at eighteen, his sister deserves respect. Subsequently, they, with Maria's blind-date Chino (Josh Andrés Rivera) arrive at the hall that civilians and police are monitoring. During a provocative dance challenge, Tony and Maria's eyes lock; behind portable bleachers they create their own world, and destiny. Until Bernardo butts in. Nevertheless, rumble conditions are settled, the party breaks up, and the lovers impetuously meet, heedless of tempting fate.
West Side Story's inception was American director, choreographer, and theatrical producer Jerome Robbins, whose inspiration was Shakespeare's Romeo and Juliet. Working with playwright Arthur Laurents ("always a mirror of his times"), composer Leonard Bernstein, and lyricist Stephen Sondheim, the 1957 multi-award winning Broadway musical signified a watershed in music-theater. The 1961 eponymous (sanitized) film adaptation directed by Robbins and Robert Wise starring Natalie Wood, Richard Beymer and George Chakiris won ten Oscars®.
The film demands its "teenagers" sing, dance, and act complex passages, and can they ever. The cast is stupendous, particularly the main actors—impossible not to like their characters, while reflecting ethnic diversity. Kudos to Cindy Tolan's casting. David Newman arranged/adapted Bernstein's score; Janusz Kaminski's dramatic cinematography is inclusive, and Sarah Broshar and Michael Kahn's artful editing is perspicacious. Breathtaking dance sequences, choreographed by Justin Peck, carry the story swiftly forward; filmed on location in New Jersey and New York. Considering they worked around coronavirus requirements, the film provided 15,000 jobs.
Director Spielberg is "proud and honored" for this late career opportunity to direct the musical: "I was 10 years old when I first listened to the West Side Story album…" also it is still topical. "And the divisions between the Sharks and the Jets in 1957, which inspired the musical, were profound. But not as divided as we find ourselves today. It turned out in the middle of the development of the script, things widened, which I think in a sense, sadly, made the story of those racial divides - not just territorial divides - more relevant to today's audience than perhaps it even was in 1957."
West Side Story, powerful, impressive, beautifully and nostalgically presented, juxtaposes its violent behavior with the comedic Krupke-sequences; its unflinching view of social inequalities and racism—heed Sondheim's lyrics, are counterbalanced with a range of heartfelt emotional dimensions. Wise focused on the brutality of juvenile delinquency, while Spielberg's version empathetically binds societal imbalances to youthful pugnacious hostility. This musical is spectacularly, and charmingly a treat to enjoy. (Marinell Haegelin)


Second Opinion

It's a tall order to successfully adapt a much beloved musical for the big screen, but Steven Spielberg has done exactly that with his much-anticipated reimagining of the 1957 Broadway musical, West Side Story.
As in Shakespeare's Romeo and Juliet, it's love at first sight when Tony (Ansel Elgort) and Maria (Rachel Zegler) fall for each other at a local dance, even though they belong to families who are sworn enemies. Maria's protective and domineering older brother Bernardo (David Alvarez) is the leader of the Sharks, a Puerto Rican street gang in the middle of a New York City turf war against the Jets, white boys who feel the Puerto Ricans are encroaching on their America. Tony just so happens to be one of the founding members of the Jets gang, though he is attempting to break free from his past life despite his best friend Riff (Mike Faist), the current Jets' leader, trying to pull him back in.
While Spielberg's version remains true to this original storyline, Tony Kushner's updated script provides a modern take on the social and cultural challenges that surround the couple, most effectively by fleshing out character backstories and adding a more authentic voice to the latin roles— literally even as the film includes a fair amount of unsubtitled Spanish. Most notable though is his rewriting of the character Doc, Tony's white boss in the original, as Valentina (Rita Moreno), Doc's Puerto Rican widow. Moreno, who won an Oscar for her role as Anita, Bernardo's girlfriend, in the 1961 film adaption, truly shines in this newly imagined role that gives the entire production a more authentic perspective. Ariana DeBose's performance as the current Anita may well have her secure an award nomination too.
Additionally, the inclusion of an openly trans character brings the production into the 21st century. While the gender identity of the original Anybodys character (Iris Menas) was always vague in the musical, this new version gives a much clearer picture and voice to a timely topic.
For all the updates though, Spielberg never loses sight of what makes West Side Story magical, both as a story and as a musical. The choreography, colorful costumes, and snappy music is pure Broadway in complete cinematographic sync with the big screen. This adaptation is a whopper of an accomplishment from an all-around stellar cast and crew, led by a director clearly at the top of his game. (Adelina Gonzales)