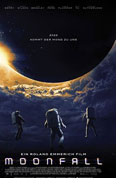 Opening 10 Feb 2022
Directed by: Roland Emmerich
Writing credits: Roland Emmerich, Harald Kloser, Spenser Cohen
Principal actors: Halle Berry, Patrick Wilson, John Bradley, Charlie Plummer, Michael Pena
In the above-titles opening sequence of this sci-fi disaster, Moonfall, German director/co-producer Roland Emmerich (Independence Day, 1996, The Day After Tomorrow, 2004, 2012, 2009) reminds audiences of Apollo 11's spectacular, phenomenal achievement July 20, 1969, "Eagle has landed." Co-written with Spenser Cohen and Harald Kloser, the screenplay's conception began when Emmerich, a conspiracy theory aficionado, learned about the Hollow Moon hypothesis (similar to the older Hollow Earth hypothesis). Emmerich does not espouse these theories; still, they make for good storytelling.
On January 12, 2011, while a NASA Satellite Repair Unit is making a routine mend, there is a catastrophic disaster, and ensuing fallout for that flight crew. Fast-forward 10-years; constellations have changed: former astronaut Jocinda "Jo" Fowler (Halle Berry, Oscar® winner) is now an executive at NASA; also a single mom, thanks to Michelle's (Wenwen Yu) efficiency and care of Jimmy (Zayn Maloney) her life runs like clockwork, with ex-husband Doug (Eme Ikwuakor) still involved. Brenda Harper Lopez (Carolina Bartczak) remarried Tom (Michael Peña), yet money cannot fix her son's (Charlie Plummer) problems. While Brian Harper (Patrick Wilson), another former astronaut, just squeaks by.
At their first meeting, Brian thinks Dr. KC Houseman (John Bradley) is bonkers, until the moon is knocked out of its orbit. Then concurrently, NASA predicts the Moon and Earth will soon collide, as social media announces the impending disaster, causing insane panic. An astronaut at heart and in a 'game changer' position, Jo acts on a presentiment; Captain Gabriella Auclair (Maxim Roy) brings in the only astronaut capable of helping. By now, though, Brian and KC come as a package. As society crumbles around them, they choose to dare fate to save the planet.
The scriptwriters decided to mix disaster and adventure into their hypothesis-cum-fabrication so audiences can have an out of this world experience. Humorous one-liners rain down on dialogue that has enough technical credibility; the cast is marvelous with a cameo by Donald Sutherland. Production values shine: the score by Harald Kloser and Thomas Wanker, cinematography by Robby Baumgartner, and Ryan Stevens Harris and Adam Wolfe's editing. Kudos to the numerous special effects teams, too.
Imagining future major technical and scientific developments, and social or environmental changes impact on individuals and societies is what makes science fiction great. Interestingly, in Moonfall it is notable what peoples' reactions are when "crunch-time" comes and, unsurprisingly, how "old fashioned" know-how, and courage of one's convictions make all the difference. So c'mon, "suit up" and "everybody hang on." (Marinell Haegelin)