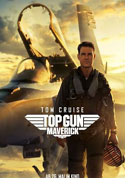 Top Gun 2: Maverick (Top Gun: Maverick)
China/U.S.A. 2022
Opening 26 May 2022
Directed by: Joseph Kosinski
Writing credits: Ehren Kruger, Eric Warren Singer, Christopher McQuarrie, Peter Craig, Justin Marks
Principal actors: Tom Cruise, Jennifer Connelly, Miles Teller, Monica Barbaro, Val Kilmer
Pete "Maverick" Mitchell (Tom Cruise) is back! It's been almost 40 years since audiences were introduced to the young, cocky fighter pilot training to be the best of the best, but Captain Mitchell has not lost the need, the need for speed. Now working as a test pilot pushing the boundaries of naval aviation, Maverick has sacrificed climbing in rank over the years to stay where he belongs — successfully flying daredevil missions for the US Navy. So it should come as no surprise when he is ordered back to the elite fighter pilot training school of his youth, Top Gun, to take part in a seemingly impossible mission to destroy an enemy nuclear enrichment plant. But instead of flying the mission, Maverick is tasked with training a group of recent Top Gun graduates for the job. It's time for the next generation to take over.
In a complicating twist, one pilot turns out to be Lieutenant Bradley "Rooster" Bradshaw (Miles Teller), the son of "Goose," Maverick's copilot whose death was an integral part of the original film and still haunts him after all these years. Sensing there will be trouble with Rooster, who may blame him for his father's death, Maverick tries to dodge the assignment. However, this is a direct order from Admiral Tom "Iceman" Kazansky (Val Kilmer), now commander of the US Pacific Fleet and one of Maverick's closest friends. So, back to Naval Air Station Miramar, California, he goes.
Just like his first time there, Maverick's boundary pushing methods are not particularly favored by the brass in charge, specifically the school's current commanding officer Vice Admiral Beau "Cyclone" Simpson (Jon Hamm). Maverick clearly has his work cut out for him with this demanding mission, which provides for some wonderfully shot and sequenced flight footage set, just like the original, to a high-octane soundtrack. But that doesn't mean there isn't time to rekindle an old romance. Penny Benjamin (Jennifer Connelly) plays his love interest this go round. Mentioned briefly in the original film as the daughter of an admiral, Maverick and Penny have had an on-and-off relationship over the years. She struggles not to fall for his charms once again, but their chemistry is undeniable.
Really, there's much that feels familiar from the original in this much-hyped sequel. That magic formula that made Top Gun an iconic blockbuster was followed faithfully (there's even a shirtless athletic beach scene), but the added element of nostalgia, just short of being over the top sometimes, allows it to live up to that hype. Fans of the original will not be disappointed. (Adelina Gonzales)


Second Opinion

Catapulted into fame in 1986, Top Gun's authenticity earned praise for director Tony Scott; its action scenes, acting (career-defining for Tom Cruise), and aerial stunts. In 2015, the US Library of Congress added Top Gun to its National Film Registry for preservation. Rather daunting and bold, then, for producers Don Simpson and Jerry Bruckheimer to gamble decades later with a sequel.
Captain Pete "Maverick" Mitchell (Tom Cruise) is saved again, this time from Rear Admiral Chester "Hammer" Cain's (Ed Harris) wrath, by his "ace in a hole," Admiral Tom "Iceman" Kazansky (Val Kilmer), commander of the US Pacific Fleet, and Maverick's friend/former rival during Top Gun training days. The elite Navy aviator and test pilot's handle speaks volumes: Maverick's unorthodox and risk-taking approach has cost him: "Yet you can't get a promotion, you won't retire, and despite your best efforts, you refuse to die." Returning to "Fightertown USA" with Bernie (Bashir Salahuddin), Maverick gets a cold dose of reality when Vice Admiral "Cyclone" Simpson (Jon Hamm) issues his new orders that Rear Admiral "Warlock" Bates (Charles Parnell) carefully observes. Maverick's job is to speedily teach young, arrogant Top Gun graduates aerial dogfighting's finer points for a hair-raising mission whereby survival depends on two miracles, before facing suicide corner. Looking at them, Maverick looks into a 30plus-year-old mirror: the highs, lows, misgivings, and ghosts, chiefly his former wingman's son, Lieutenant "Rooster" Bradshaw (Miles Teller), and his rival Lt. "Hangman" Seresin (Glen Powell). An unseen benefit, though, is reconnecting with Penny (Jennifer Connelly fleshed out her character wonderfully), and daughter Amelia (Lyliana Wray). But then, the timetable gets tighter.
Director Joseph Kosinski and Tom Cruise, as producer and in a flight suit, fly high into the stratosphere with the strong screenplay that picks-up where Top Gun left off, then expands on it. Cruise used his clout—accumulated in the meantime—to insist on cast choices, e.g., Kilmer returns as Iceman, and action scenes were filmed in real-time as opposed to CGI. Cruise is well-known for habitually doing his own stunts, and has made an art out of creating daunting, death defying charismatic characters in Mission: Impossible, Top Gun, et cetera films.
The cast is great, from the somewhat rash young officers (Teller, Powell, Monica Barbaro, Lewis Pullman, Greg Tarzan Davis, Jay Ellis, Danny Ramirez, et al.) to the rarified vets. The old/new element is echoed in the film's aircraft: "old timers" F-14 Tomcat and Cruise's WWII P-51 Mustang he piloted, plus helicopters and a motorcycle, compared to the F-18 Super Hornets—rigged with camera systems outside and in—flown by veteran Navy fighter pilots. Nevertheless, cast was chosen for and underwent extensive G-forces flight training so they could deliver dialogue without passing out or vomiting. The US Department of Defense and US Navy were heavily involved, e.g., the opening shots on aircraft carriers are genuine.
Harold Faltermeyer returned, and with Lorne Balfe and Hans Zimmer scored the film, Claudio Miranda's cinematographer, and Eddie Hamilton edits albeit with hiccups. The film was in production during the onslaught of the pandemic and Cruise was a stickler for following COVID rules of conduct.
As a sequel, Top Gun: Maverick soars with awe-inspiring airborne action sequences. Its storyline's immersive quality, combining the baby-faced hotshots and the seasoned timeworn vets adds depth, and inestimable attraction. Strap yourselves in for a spirited, pleasurable, and inspiring flight. (Marinell Haegelin)