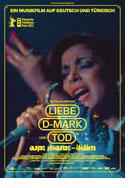 Liebe, D-Mark und Tod - Ask, Mark ve Ölüm (Love, Deutschmarks and Death)
Germany 2022
Opening 29 Sep 2022
Directed by: Cem Kaya
Writing credits: Cem Kaya, Mehmet Akif Büyükatalay

Chords are struck and strings tuned as sonorously vibrant voices explode, quiver, caress and coax in director Cem Kaya's absorbing essay film. It encapsulates 60 years focusing on Turkish music intertwined with post WW ll history, migrants, prejudicial discrimination, and political and societal imbalances.
In 1955 the first "guest workers" arrive, and in 1961 the German Federal Republic strikes a recruitment agreement with Turkey; hopeful volunteers endure endless ques after hearing of Germany's wealth. Potential candidates face multi-level medical examinations, leaving loved ones, foreign language confusion, and humiliation. Migrants bring with them what they value most: language, customs and culture, and an abundance of expressive music. Their new "home" provides long work hours and bleak accommodations, inhospitable inhabitants, attacks, and free time boredom, all reinforced by archival footage.
Their lifeline is Turkish music with songs ranging from wistfully soulful to protest and love and, after reunification hip-hop and rap. Unwittingly, these early musicians and ensuing generations create a musical bonanza for Turkish made-in-Germany music that appeals to a worldwide audience/market. A wide range of musicians give lively accounts, in Turkish or German and subtitled accordingly, about their start and subsequent developments. The range of interviewees is impressive: collectors, journalists, musicians—İsmet Topçu, Hatay Engin and others, and Yüksel Özkasap singer/entrepreneur, Diva Cavidan Ünal, folk-duos Derdiyoklar and wedding bands, protest singers (Cem Karaca) to rappers (Aziza A.).
The production values are stellar: care is given to identifying people, places, time's progression and archival footage matching onscreen action with Cem Kaya involved in all aspects. The filmmaker's documentary approach merges Turkish related topics (Remake, Remix, Rip-Off (2014) about the Turkish Yesilçam film industry), extensive research and spirited productions. Expansively melodic, Liebe, D-Mark und Tod's pulsating rhythm makes an indelible impression as does highlighting the beneficial coproduction of German-Turkish music. It won the 2022 Berlinale Panorama Audience Award. (Marinell Haegelin)