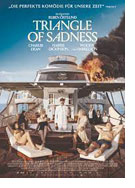 Opening 13 Oct 2022
Directed by: Ruben Östlund
Writing credits: Ruben Östlund
Principal actors: Woody Harrelson, Harris Dickinson, Charlbi Dean, Jiannis Moustos, Vicki Berlin
Swedish director Ruben Östlund's first English language film and second Palme d'Or winner is a black comedy-cum-social commentary critique. Oozing with Östlund's overwhelmingly satirical denouncement of human traits, here he takes a punch at the morbid excessiveness of the super/superficially rich. Previous films mocked inflated male egos (Force Majeure [Tourist], 2014), and scoffed at the art/museum industries pretentiousness (The Square, 2017).
Its opening initiates audiences to the 21st century's phoniness: models, i.e., the hopeful Carl's (Harris Dickinson) tryout strut; marketing influencer/model Yaya's (Charlbi Dean) pouty look, and plastic surgeons' term for the Botox-treatable triangle of sadness. Following Carl and Yaya's subsequent tensional affair, the self-confessed manipulator and the wavering wannabe find themselves aboard a superyacht catering to the mega-rich. They are out of their league: the oligarch Dimitry (Zlatko Buric) and entourage (Sunnyi Melles, Carolina Gynning), the armament-rich Brits (Oliver Ford Davies, Amanda Walker), the stricken Therese (Iris Berben), the blundering billionaire (Jorma Björkman) and a sundry lot of rash wealthy incompetents. No wonder the ship's captain (Woody Harrelson) stays hidden away, leaving First Officer Darius (Arvin Kananian) to flimsily navigate their demands. Whereas the energized bosun-cum-purser Paula (Vicki Berlin) motivationally rouses her minions, while also keeping their "consignment" satisfied and happily appeased. Until the day of and then the Captain's Dinner; henceforth that fiasco spirals into disgusting tedium (for audiences) then overlingered on the abandoned island.
The film begins to pitch even before reaching the island. Structured in three parts the introduction clips along, just as the initial onboard action briskly tacks from above- to below deck's cast of characters. Survivors washed unceremoniously ashore the isle where the reversal of power and fortunes among them, plus the tribal-like capitulation cannot stop the film from drifting. Dickinson and Dean are good; Harrelson's character is on/offscreen too fast. Thanks to Buric's performance only Dimitry seems to understand the undercurrents, and is likable to boot, just as Dolly De Leon's character walks the megalomania plank with poise.
Production values are sound: Fredrik Wenzel's cinematography, Pauline Hansson's casting, Josefin Åsberg's production design; Mikel Cee Karlsson edited with Östlund perhaps causing Triangle of Sadness' floundering in the doldrums, since trimming the sails 30-40 minutes it would have gleefully cruised the waves. Nevertheless, light winds manage to keep Sadness afloat. (Marinell Haegelin)