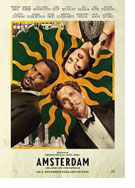 Opening 3 Nov 2022
Directed by: David O. Russell
Writing credits: David O. Russell
Principal actors: Christian Bale, Margot Robbie, John David Washington, Alessandro Nivola, Andrea Riseborough
How did a nice Park Avenue, New York City doctor get into the firing lines during World War I? Medals, distance, and needs. That is just the half of it; better to go forward before going back. Director-writer David O. Russell's quirky, quickly paced period mystery-cum-thriller is layered with interestingly developed, strong personality characters whose lives fluctuate around choices, needs, beliefs, and disturbing political allegiances, besides run-of-the-mill racists, hypocrites, etc.
New York 1933: Two war buddies get into a pickle after agreeing to help Elizabeth (Taylor Swift) with her father; Bill Meekins (Ed Begley Jr.) was their regiment commander in France. She suspects foul play. Harold (John David Washington), the lawyer, sets it up legally while Burt (Christian Bale), the doctor, performs the autopsy with nurse Irma (Zoe Saldaña). Before they can report their findings, there is a terrible accident and, the real killer fingers them. Adding to their woes, detectives show up; the seasoned Lem (Matthias Schoenaerts) they know, but younger Hiltz's (Alessandro Nivola) tactlessness begs perseverance. They cannot save themselves from their dastardly compromised situation and solve the puzzle without going back a long time ago.
1918: Meekins brings Burt and Harold together; badly wounded, the artistic, zany Valerie (Margot Robbie) nurses them back to health; she is their kind of madcap. They meet her eccentric friends Paul Canterbury (Mike Myers) and Henry Norcross (Michael Shannon), working incognito as glass eye manufactures, then move to Amsterdam. "It was the good life." Nevertheless, Burt returns to wife Beatrice (Andrea Riseborough); now estranged, Burt prioritizes helping other ailing veterans. Close friends for twelve years, he and Harold are planning a gala for vets with army friend Milton (Chris Rock). Now this. In dire straits, to get to someone who could help them, General Dillenbeck (Robert De Niro), they are pointed to the wealthy manufacturer Tom Voze (Rami Malek) and wife Libby (Anya Taylor-Joy). Plus, the surprises keep coming based on a pact, and a nonsense song.
The prodigiously talented cast infuse their onscreen characters with gumption and/or spirited wrongfulness. Setting the era's ambiance is production designer Judy Becker, Patricia Cuccia and Erin Frite's set decoration, Danielle Osborne and Alexander Wei's art direction, and of course, costume designers J.R. Hawbaker and Albert Wolsky's alluring character-specificity costumes. Emmanuel Lubezki's fluid cinematography, Jay Cassidy's nimble-fingered editing that Daniel Pemberton's onscreen mood-matching music amplify the film. Russel does not disappoint with his prescient and intelligently structured Amsterdam. It is a witty whodunit laced with lyrical black humor and red herrings – do pay attention. "A lot of this really did happen." And it could very easily happen again. (Marinell Haegelin)