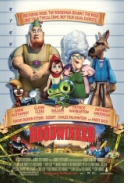 Die Rotkäppchen - Verschwörung (Hoodwinked)
U.S.A. 2005
Opening 28 Dec 2006
Directed by: Cory & Todd Edwards
Writing credits: Cory Edwards, Todd Edwards
Principal actors: Anne Hathaway, Glenn Close, James Belushi, Patrick Warburton, Anthony Anderson
This delightful, independent 3-D animation is written and directed by Cory Edwards, Todd Edwards and Tony Leech; the characters are given voices by Anne Hathaway, Glen Close and Jim Belushi, among others.
The scene of the crime: grandmother's cottage in the wood. The suspects: Little Red Riding Hood (looking very innocent), her grandmother (trussed up from head to toe), a wolf (looking very questionable) and an axe-wielding woodsman (looking rather confused).
Our four protagonists are accused of breaking and entry, disturbing the peace, assault, swinging an axe without a licence and, above all, of the mysterious disappearance of all the goodies recipes in the forest. For police chief Grizzly, they all look very suspicious, but ace detective Nicky Flippers doesn't want to jump to any quick conclusions. He interrogates them one after the other and soon discovers that little is as it first seems. The stories that are revealed become increasingly ludicrous... yet they might just be true. Are any of the suspects really the malicious goodies thief, or is a more devious mind at work behind the scenes?
Hoodwinked is an original take on a classic fairy tale. Though the animation is not up to the standard reached by Pixar, it will probably charm any animation fan with a child-like heart and sense of fun. Good family viewing for the holidays. (Osanna Vaughn)