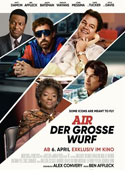 Air - Der große Wurf (Air)
U.S.A. 2023
Opening 6 Apr 2023
Directed by: Ben Affleck
Writing credits: Alex Convery
Principal actors: Matt Damon, Jason Bateman, Ben Affleck, Chris Messina, Viola Davis
If you are in the theater to watch a feel-good movie, full of '80s nostalgia, about a real-life hero, Air is the film for you. If you are going to Air to see a buff Matt Damon and a cool Ben Affleck, you might be in for a surprise. Damon plays Sonny Vaccaro, a doughy basketball nerd, with a dad bod or even a granddad bod, who spends hours watching and analyzing video cassettes of basketball games.
It's 1984 in the Nike headquarters in Beaverton, Oregon. Sonny has been hired by Phil Knight (Affleck), CEO of the Nike sneaker company which is attempting to expand its market from jogging to basketball shoes. Phil tries ever so hard to be cool with his grape-colored Porsche, his 10 rules of success, his Zen meditation, and his swirly-patterned, tight jogging pants. (You can just tell Affleck, in a curly wig and black sunglasses, relishes spoofing this marketing icon.)
The basketball division is on the brink of collapse at Nike, unable to compete with Adidas and Converse, who have all the legendary athletes under contract. Sonny is on a mission to break through and recruit a future champion to sign up with Nike. Scrutinizing his video cassettes, he has zeroed in on rookie Michael Jordan. His co-workers Rob Strasser (Jason Bateman) and Howard White (comedian Chris Tucker) are skeptical Jordan would be interested in 3rd rate Nike. Cautionary Phil isn't willing to spend the money on just one player; since Nike has gone public, and he has a board to answer to. And Jordan's arrogant agent David (Chris Messina), whose ranting, raving, and cussing probably gave the film its R rating, ridicules Sonny for even asking.
Sonny, who's a kind of basketball genius and a gamblin' man, takes a chance and flies to North Carolina to meet with Jordan's parents, his amiable dad James and fiercely loyal mom Delores (Viola Davis, handpicked by Michael Jordan). This gutsy move and the reverence he pays Delores convinces her that Michael should at least visit headquarters in Beaverton. Sonny and Delores share an unwavering vision of Michael, whose impact to the game would be forever lifechanging.
Every moviegoer already knows the ending. The fun is in the journey, watching this superb cast bring history to life surrounded by the authentic trappings of the '80s. Swoosh. Enjoy. (Pat Frickey)