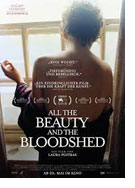 All The Beauty and the Bloodshed
U.S.A. 2022
Opening 25 May 2023
Directed by: Laura Poitras
Writing credits:

Broadly speaking, documentaries convey particular truths and realties about life ranging from the informative, educational, artistic, and political, to pushing social norms, addressing societal problems, tackling criminal behavior and/or corporate corruption, but rarely all at once. Until an award-winning filmmaker, and a renowned photographer and activist's collaboration produced such a rarity: All the Beauty and the Bloodshed. Director Laura Poitras (Citizen Four, 2015 Oscar®) and prolific artist Nan Goldin's exposé is of families: the Goldin family from Nan's perspective, and the powerful Sackler families from their perverse global impact on societies.
"There's a difference between the story, and the real memory." Nan Goldin unflinchingly reveals personal pain growing up in a claustrophobic neighborhood. Older sister Barbara's fight and eventual succumbing to out- and inside demons, their parents' dysfunctionality and its effect on their children, her escape and rebellious yet somehow nurturing lifestyle. Early on Nan's passion for photography was developed as she used the lens to importantly capture/record reality.
Doctors Arthur, Mortimer, and Raymond Sackler established their empire in 1952; Purdue Pharma became their "cash cow." Arthur masterfully manipulated public relations and purveyed directly to doctors. Purdue's pharmaceuticals, particularly OxyContin, made a fortune for the large Sackler family. (Preceding "Oxy" was Oxycodone (discovered 1916); it was pulled from the market in 1990 because of its addictiveness.) Beaucoup contributions to museums and universities ensured the Sackler name being enshrined worldwide.
In 2017 Goldin founded the advocacy group P.A.I.N. (Prescription Addiction Intervention Now) after overcoming opioid addiction from prescribed OxyContin and an overdose of fentanyl. She focused on holding the Sackler family accountable for the opioid epidemic's destruction, deaths.
The documentary, structured in seven chapters that begin with a Goldin photography/slide show covering a period of her life, e.g. The Ballad of Sexual Dependency (1986), moves back/forth between two worlds. From P.A.I.N.'s first 2018 demonstration at the Metropolitan Museum of Art in New York, Goldin was filming with the idea of making a documentary; when she shopped for a filmmaker to help her Poitras was recommended.
Production values are excellent (especially considering the massive amount of varied material covered). Laura Poitras co-edited, and Goldin was music consultant; their osmosis creates a truly remarkable, engrossing experience for audiences. Black cards add facts re: OxyContin death tolls, and US Congress and Department of Justice's inability toward retribution, et al.
Much can be learned from this documentary. It is a testament to the power of peaceful, well-coordinated and focused activism, and specifically the destructive nature of greed. The multi award-winning film won the 2023 Oscar® for Best Documentary Feature. (Marinell Haegelin)