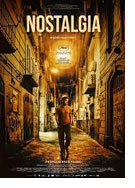 Opening 8 Jun 2023
Directed by: Mario Martone
Writing credits: Ermanno Rea, Mario Martone, Ippolita Di Majo
Principal actors: Pierfrancesco Favino, Francesco Di Leva, Tommaso Ragno, Aurora Quattrocchi, Sofia Essaïdi
From the moment the plane lands in Napoli, Italia, Felice Lasco (Pierfrancesco Favino) naively sees everything through rose-colored glasses. Returning after 40 years, the entrepreneur's aging mother's deteriorating health is worrisome. Opening her door Mama (Aurora Quattrocchi) is speechless to find her Feli there; obviously then, his arrangements with the neighbors to care for her from afar are not unsuccessful. Slipping back into his Neapolitan self, he stumbles over pronunciations and forgets words shopping for Mama. Their deep love and strong bond gently resurges as he tends to Mama body and soul.
Sights and sounds trigger submerged memories; young troublemakers on scooters remind him of the juvenile Felice (Emanuele Palumbo) and "Spasiano" (Artem), his hellion best-buddy. Strolling through familiar territory Felice has a change of heart that surprises his Egyptian wife. He inadvertently meets Teresa's former boss Raffaele (Nello Mascia), and later Don Luigi (Francesco Di Leva), the indomitable social justice reformer and priest. Felice listens to him loudly railing against the Camorra—Mafia-like criminal organization—particularly "Badman." Felice gets advice from all quarters, and repeatedly, he chooses to ignore. During a heart-to-heart with the goodly priest Felice's long-ago involvement with Oreste (Tommaso Ragno), the elusive now-fiendish gangster "Badman," becomes crystal clear, outraging Don Luigi. Felice guilelessly meets his past, albeit dead-eyed Oreste is disinterested. Felice's preparations unfold, just as Oreste knows when to feather his nest.
Italian director Mario Martone's film, based on Ermanno Rea's novel with Ippolita Di Majo's cowritten screenplay, is remarkably compact, emotively evocative and thriller-esque, and unforgettable. Cinematographer Paolo Carnera's camera embodies Felice's conscience, as well as alerting us to omnipresent risks: watchful Neapolitans behind shutters or shuttling away from Camorra-fueled jeopardies. Favino's craggy masculinity, moody reticence, and ernst yearning augment his reflective walks and memories. One of the more beautifully tender film scenes is Favino bathing the frail, diminutive Quattrocchi. Jacopo Quadri's editing is brilliantly paced and parceled; the soundtrack is pure 1960s.
Nostalgia's many themes can be summed up as, "listen to Mama – she has your best interests at heart." It screened at Festival de Cannes 2023 and was Italy's Best International Feature Film submission for the 95th Academy Awards. (Marinell Haegelin)