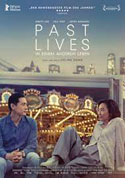 Past Lives - In einem anderen Leben (Past Lives)
U.S.A./South Korea 2023
Opening 10 Aug 2023
Directed by: Celine Song
Writing credits: Celine Song
Principal actors: Greta Lee, Teo Yoo, John Magaro, Moon Seung-ah, Leem Seung-min
Ah Moon (Moon Seung-ah) and Hae Sung (Leem Seung-min) are best of friends when the Seung's announce they are immigrating. Hae Sung is miserable; it stings overhearing Ah Moon telling another classmate chances are better there at winning a Nobel Peace Prize. Popular and competitive in South Korea, in Canada at her new school Ah Moon first has to learn the language.
Twelve years pass before they re-connect through social media. They talk online lots, and often. When Hae Sung (Teo Yoo) asks, Ah Moon, now named Nora (Greta Lee), says she wants to win a Pulitzer Prize. She's moved to New York City as a (struggling) playwright, and Hae Sung is studying engineering at a good school; they are both ultra-busy. Once again there is a long, dry spell between their communicating. Nora meets Arthur (John Magaro) at an artist's retreat; hearing about in-yun fascinates him. Hae Sung meets someone (Seung Un Hwang). Leaving to study in China, his friends (Kiha Chang, Shin Hee-Chul, Jun Hyuk Park) give him a rousing send-off. Life continues until that fate-filled interim when, being in the same place at the same time, a reunion materializes.
Writer-director Celine Song's inspiration for her directorial-debut film is the selfsame personal experience; her formulaic screenplay matches her directorial rhythm. The introduction sequence is so unusual and cheeky that what follows is humdrum. It is the main protagonists' performances that add ballast to Song's film. Lee and Yoo's characters maintain a delicate balance of will, affection and in-yun throughout that Magaro's measured portrayal accentuates.
Cinematographer Shabier Kirchner combines slow pans and variable, contrary framing that Keith Fraase conventionally edits, and is accompanied by Christopher Bear and Daniel Rossen's music. The Korean concept of in-yun means, at its simplest, providence or fate's role in how every encounter has an effect on each person's life. Its role in Past Lives adds a reflective subtlety to the importance people can play in another's life, a concept unfamiliar to many Westerners. (Marinell Haegelin)