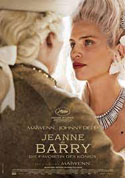 Opening 24 Aug 2023
Directed by: Maïwenn
Writing credits: Maïwenn , Teddy Lussi-Modeste, Nicolas Livecchi
Principal actors: Maïwenn , Johnny Depp, Benjamin Lavernhe, Melvil Poupaud, Robin Renucci
Maïwenn is a name we are unlikely going to forget. Like Jeanne du Barry, Maïwenn certainly has not taken the conventional path of life to get where she is now. Married at 16 to the famous director/screenwriter Luc Besson, Maïwenn certainly has learned tricks of the trade to produce one of the most expensive French films made in 2022. With its budget of $22.4 million, Jeanne du Barry truly expresses the lavish atmosphere seen at the court of Versailles. She was not only the director but was one of the screenwriters, producers, and most importantly played the leading female role in in the film, about the controversial courtesan Jeanne Bécu at the court of King Louis XV's. Her decision to use Johnny Depp after all of his trials and tribulations seemed a bit risky, but he naturally made a perfect King Louis XV in his late fifties, who had clearly seen better times. Depp shows off his talent of speaking French which unfortunately will get lost when they dub the film into other languages. It seems that even in Cannes, Maïwenn too creates a scandal by spitting in a journalist's face and one could wonder if the ghost of the head strong Jeanne du Barry has come alive. Although she seems to be anti- the #MeToo movement, the audience shouldn't let that influence them when viewing her film.
Maïwenn's elegantly handcrafted film captures the elaborate atmosphere of the royal court while giving us a view into the inner workings of the royal court and their mannerism. The film begins with a narration of her humble beginnings as the illegitimate daughter of a seamstress. Due to her legendary beauty and wit, she chooses the best career suited for her as a prostitute working in salons visited by aristocrats. Using scheming and politics she receives the opportunity of a lifetime but with every opportunity there is a price to pay. Scandals, intrigue, and satire are the perfect combination to reflect a woman's point of view in this historical drama. (Shelly Schoeneshoefer)


Second Opinion

French director-co-writer-actress Maïwenn succeeds in capturing 18th century palace intrigue and lifestyle splendor, debauchery, grandiose, hypocrisy and superficial sanctimony during the reign of King Louis XV. Teddy Lussi-Modeste, Nicolas Livecchi and Maïwenn joined forces on the broad brushstrokes of the biographic screenplay regarding the illegitimate peasant girl who with temerity, laughter, and bawdy cavorting trollops her way into King Louis's bedchamber. Moreover, she gains the title of maîtresse-en-titre (chief royal mistress to the French King) when, bien entendu, Jeanne Bécu meets the prerequisites.
Through their effortlessly effectual performances as King Louis XV and Jeanne Bécu/du Barry respectively, Johnny Depp and Maïwenn reincarnate (figuratively) the pair. The actors play off one another well, matching lustful stares, gleeful greedy gorging, mournful melancholy, and temperate resignation. Even during inaction, Deep's depictions of kingly misgivings, scorn, and rakish flirtations carry might, just as Maïwenn does the courtesan's sauciness, savvy, and sadness justice. The attendant cast are masterfully artful and include Marianne Basler, Robin Renucci, Patrick d'Assumçao, Diego Le Fur, Pascal Greggory, Pauline Pollmann. Their overt yet subtly candid portrayals emulate the court's insidious, suffocatingly structural pecking order. Kudos to Sarah Teper and Elise Vogel, casting director.
Filming in Versailles, France, home to Château de Versailles built by Louis XV's prédécesseur, imbues opulent sensuousness into each frame of Laurent Dailland's splendid cinematography. Angelo Zamparutti's production design, Jürgen Doering's costume design, and the makeup, art, sound and costume, and wardrobe departments outstanding work, e.g., the King in fact gifted Madame du Barry the gown depicted with the enormous panniers she wears when presented at court. This textural detailing combines for a picturesque film resonating with historical bearing.
Enjoy Jeanne Du Barry's visual sumptuousness and pay attention to the deftly displayed undercurrents swirling just below the rich tapestry of tempestuousness feelings. (Marinell Haegelin)