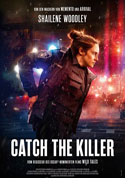 Catch the Killer (To Catch a Killer)
U.S.A./Canada 2023
Opening 5 Oct 2023
Directed by: Damián Szifrón
Writing credits: Damián Szifrón, Jonathan Wakeham
Principal actors: Shailene Woodley, Ben Mendelsohn, Jovan Adepo, Ralph Ineson, Richard Zeman
It's New Year's Eve and Baltimore's skies are alite with fireworks as parties rage throughout the city. Suddenly, the world turns upside down when a mass shooting occurs, and the city's celebration turns into full panic. The film footage literally turns upside down several times bringing an unstable queasy feeling of uncertainty except we catch a glimpse of how the young talented police officer Eleanor Falco (Shailene Woodley) can swim in almost any environment. It doesn't take long before the FBI's chief investigator Geoffrey Lammark (Ben Mendelson) recruits her since she seems to be a natural profiler—until he reads her file. Her questionable past gives her advantages that the others resent.
This psychological thriller moves at a suspenseful pace accompanied by loud unexpected sounds. We go behind the scenes where politicians get their way; the media plays its role, leaving the police to pick up the pieces of shattered lives. The film definitely has gaps in the storyline, but they can easily be overlooked due to the visual intensity of the film. (Shelly Schoeneshoefer)


Second Opinion

Catch the Killer is brilliant no-holds-barred, high-octane action from start to finish and Argentinian director Damián Szifron's English-language debut film. Its smart, compact screenplay, co-written by Szifron and Jonathan Wakeham, holds a mirror up to universal prevalent societal follies and political complexities. Besides, being impossible to second guess.
New Year's Eve, and Baltimore is lavishing fantastic fireworks, lots of hype and naturally, every venue is offering the moon to suck in a bigger crowd/more money. Officer Eleanor Falco (Shailene Woodley), on routine patrol, gets the high-alert code as sirens whiz by. At first count the sniper's carnage is 25 wounded and 17 dead, setting off a chain reaction. All branches of law enforcement get involved. The Federal Bureau of Investigation (FBI) puts veteran investigator Geoffrey Lammark (Ben Mendelsohn) in charge. Lammark checks Falco's file after her sage remarks regarding profiling; her background is troubled, yet he sees talent. Lammark snags Jack McKenzie (Jovan Adepo) and fast-tracks Eleanor as his police/FBI liaison. They painstakingly check a thin lead. Between agencies animus and subterfuges increase. The governor's man (Nick Walker) tries to force scenarios; a Frank Graber's (Richard Zeman), in charge of terrorism, tactic runs afoul. Time is on the killer's side. Pressure mounts. Lammark's unorthodox approach is direct, honest angering some. For Falco it provides a steadying compass against old demons as the three move steadily along a fact-driven, albeit potholed, route to catch the killer. The few days feel like a lifetime; then, the abattoir. With Jack's input and Lammark at the wheel, Falco's discontent and tenacity pay off.
Shailene Woodley's performance is electric and Mendelsohn's commanding as the main protagonists with Adepo's self-assured addition, and robust support from a seasoned cast. Javier Juliá's mesmerizing cinematography is breathtaking in its scope, virtuosity of camera shots just as Damián Szifron's editing's staggered pacing and dramatic flair for the unexpected that merges spectacularly with Carter Burwell's atmospheric soundtrack.
This razor-sharp thriller contrasts conflicting themes, e.g., human disingenuousness with moral certainty, trust and truth with mass communication and greed. Catch The Killer is unflinchingly honest—the grit without the bloody gore—and an absorbing, stimulating yet provocative watch that clearly delivers. (Marinell Haegelin)