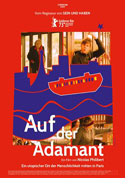 Auf der Adamant (On the Adamant, Sur l'Adamant)
France/Japan 2023
Opening 14 Sep 2023
Directed by: Nicolas Philibert
Writing credits: Nicolas Philibert

Writer-director Nicolas Philibert (Etre et Avoir / To Be and to Have [2002], La moindre des choses / Every Little Thing [1997]) piercing documentary is also extraordinarily thoughtful and compassionate allowing audiences to experience a fly-on-the-wall proximity to everyone onboard. Auf der Adamant is a benchmark and deservedly won the 2023 Berlinale's Golden Bear.
Moored along the right bank of the Seine on Quai de la Rapée in Paris, France, the Adamant's patients, adults from the first four districts in Paris, drift aboard mornings after the mesh gate is unlocked: Muriel, François, Alexis, Olivier, Mireille, Frédéric, Laurent are but a few. Sun shines into the busy, cozy, and caring floating daycare refuge for people battling inner demons. Auf der Adamant defies expectations of a psychiatric outpatient clinic, replacing misconceptions with an understanding and insight for individuals with mental disorders.
Uniquely, this dream come true was nurtured by clinical psychologist and psychoanalyst Linda de Zitter, and a team of carers and patients. Their collaboration included the Adamant's basic configuration and architectural design, as well as day-to-day operations. As part of the St-Maurice hospital's Esquirol psychiatric service, it is interlinked with a network of facilities thus offering patients/carers the opportunity to explore various options to set up her/his own plan for individual treatment/support from those resources.
The Adamant opened in July 2010; some patients make use of its nurturing surroundings daily, others less often or sporadically. Each week kicks off with breakfast, then Monday's weekly meeting where patients and carers discuss that week's agenda, projects, outings, and exchange news. Workshops are numerous, ranging from sewing and jam making to the artistic; open to all, people can participate or come by for company. We sit-in at the film group's meeting making 10th anniversary celebratory plans. Noticeably, instead of "smart" phones, people interact with each other; at meetings everyone talk and listen without interrupting, agree to disagree, take responsibility and with admirable mutual cooperation and humor. Respect.
Production values shine: Nicolas Philibert's camerawork with assistants; Erik Ménard and François Abdelnour sound; Nathalie Vidal assisted by Élias Boughedir's sound editing/mix; Nicolas Philibert with assistants editing. Nothing hurries Philiber's camerawork to hurry the patients, which makes a huge difference in their trustful answers.
Auf der Adamant, uplifting and amazingly positive, is an anomaly among 'institutional psychotherapy' daycare centers. It's the first film in a triptych; the second part was shot at two Esquirol intra-hospitals, and the third film's focus will be on patient home visits by carers. This documentary is a benchmark, and sets a blueprint for treatment, and for anyone's life. (Marinell Haegelin)