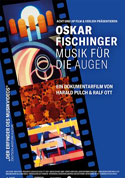 Oskar Fischinger - Musik für die Augen
Germany 2023
Opening 21 Sep 2023
Directed by: Harald Pulch, Ralf Ott
Writing credits:

Oskar Fischinger - Musik für die Augen, which it truly is, begins with expository intertitles explaining director Harald Pulch and cameraman Eckhard Jansen's visit with Elfriede Fischinger, Oskar's widow, for five days in Long Beach, California, in 1993. With Fischinger's paintings as a backdrop, Elfriede's overview incorporates his family's background in the 1920s, his work and schooling, and eventual introduction at 21 to Walter Ruttmann, an animation pioneer, in 1921. Ten years younger, after marrying in 1932 Elfriede assisted Oskar whose pioneering avant-garde musical animation films and paintings designated Germany's position in the field. This fluid documentary encompasses artistic breakthroughs, societal changes, and the historical upheavals—two World Wars—that took place in the 20th century.
Oskar's vision entailed animating graphic/abstract elements synchronized to music – initial simplistic explorations evolved into complex, colorful and multi-structured compelling works of art. He did so with an enviable energy that never wavers, distorts, or bores. Involved with leading companies and individuals pushing the norm, from Oskar's wax-slicing machine invention to Fritz Lang's 1928 Frau in Mond (Woman in the Moon) his advancements in animation are remarkable. His experimental charcoal-on-paper Studies 1 through 12 animations earned him Universal Pictures' attention: Study Nr. 5 was wildly popular at the 1931 Congress for Colour-Music Research." Notable commercial advertisements for the Tolirag agency, Kreise (Circles, 1933-1934) and the Muratti stop-motion marching cigarettes ad in 1934, plus his 1935 personal Komposition in Blau increased his animation's popularity.
In 1936 Oskar's call to Hollywood via a contract offer from Paramount Pictures coincided with Nazis intolerance for contemporary art/artists and the Fischingers emigrated, albeit it was not always easy. Who knew that after Pearl Harbor's bombing in 1941, not only was there forced internment of Japanese-Americans, but also no "enemy aliens" could work in any studio in Hollywood, not just the Walt Disney Sound Studio where Oskar worked.
Elfriede is a warm, wonderfully open, and candidly forthcoming storyteller/guide whose demeanor is inviting, reflective and humorous with echoes of pathos. The Fischinger's personal archive/works manifest Oskar's progress in artistic development. Production values are solid: editors Andreas Wiedmann, Armin Riegel and Saskia Hanf, Parviz Mir-Ali music.
Again, at the end expository intertitles explains the film's dormant period between 1993 and 2021, and co-director Ralf Ott's opportune involvement with Pulch. Considering computer-generated imagery (CGI) audiences have become accustomed to the past decades try to imagine what it must have been like for audiences in 1931 to first see a Fischinger synchronized animation, which drew the large audiences rather than the cinema's feature film. (Marinell Haegelin)