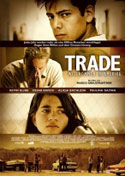 Opening 18 Oct 2007
Directed by: Marco Kreuzpainter
Writing credits: Jose Rivera
Principal actors: Kevin Kline, Alicja Bachleda-Curus, Paulina Gaitan, Cesar Ramos
Marco Kreuzpainter's first American film, Trade, is based on the horrific 2004 New York Times Magazine story called The Girl Next Door by Peter Landesman – a report about the trafficking of children and teenagers across the Mexican border into the United States as sex slaves.
Kidnapped on the streets of small Mexican villages or sold by their parents, the children (some of them, says Landesman, as young as four!) are spirited across the border to respectable suburban houses in middle-class neighborhoods in California or New Jersey or elsewhere. From here they are rented out to johns or sold, if they are young enough and still virgins (in one case, Landesman reported for $300,000), to men who then own them. The children are made submissive by drugs and subjected to repeated sexual, physical and psychological abuse and become mindless sex robots, unable to protest or to save themselves. They are told repeatedly that their captors have the addresses of their parents and siblings and will kill them if the children try to escape or tell anyone. But whom would they tell, anyway? They learn from the start that men in police or immigration uniforms are part of the ring and as most are without even the English language, they are helpless.
Thirteen-year-old Adriana (a brilliant Paulina Gaitan) is abducted from her village and thrown in a van, along with three other children and a beautiful young Polish woman (lured to Mexico by agents in Poland who tell her that she will be spirited across the border to a new life in Los Angeles). Veronica (a charismatic Alicja Bachleda) bonds with Adriana and tries to give her courage. Veronica's eventual fate is devastating for the viewer and Adriana, whose one hope is her 17-year-old brother Jorge (the extraordinary Cesar Ramos). With enormous determination and the bravado of the young, Jorge finds out who has taken Adriana and manages to follow the van at least to the border. There Jorge falls into the hands of an insurance cop (Kevin Kline), who eventually believes his story and joins him in the desperate effort to save his sister. Their journey is an odyssey mapped out in painful detail by Peter Landesman's report.
I would hope that the movie, which premiered at the Sundance Film Festival in January, would raise the alarm in the United States; that people will do something to stop this; that not everybody is on the take. But I am sceptical. One thing is for sure, the film is shattering. (Adele Riepe)