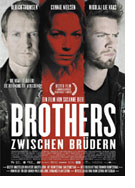 Brothers - Zwischen Brüdern (Brothers, Brødre)
Denmark 2004
Opening 31 Mar 2005
Directed by: Susanne Bier
Writing credits: Susanne Bier, Anders Thomas Jensen
Principal actors: Connie Nielsen, Ulrich Thomsen, Nikolaj Lie Kaas, Bent Mejding, Solbjørg Højfeld
Suzanne Bier, who directed the deeply moving Open Hearts and also one of Denmark's five top films, The One and Only, has again brought a compelling story to the screen with two superb actors, Ulrich Thomsen (Celebration, Killing me Softly and The Inheritance) as Michael, and Connie Nielsen (One Hour Photo) as Sarah.
Michael, a successful career soldier with a lovely wife and two sweet little girls, is on his way to Afghanistan for his second tour of duty. His brother, Jannik (Nicolaj Lie Kaas), a heavy drinker, ex-con, drifter, and to everyone, including himself, a loser, comes to say goodbye. Jannik deeply admires his older brother, and in the warm relationship between the two, there is neither animosity nor jealousy. Then Michael's helicopter crashes in the desert and he is presumed dead. To everyone's astonishment, Jannik slowly takes responsibility for Michael's family: installing the kitchen which had been languishing half-finished for years, being an affectionate and dependable uncle for the girls and even getting a job. And between Jannik and Sarah, mutual grief gives way to a growing love.
And then Michael turns up alive but badly traumatized by his experiences as a prisoner in Afghanistan, especially by one incident which leaves him no peace. His deep psychological wounds have changed him and the result is frightening.
In a statement on the film, Bier said she likes "to get under the skin of my characters". With her films, she gets under ours, too. (Adele Riepe)