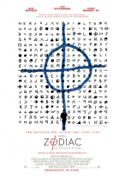 Zodiac-Die Spur des Killers (Zodiac)
U.S.A. 2007
Opening 31 May 2007
Directed by: David Fincher
Writing credits: James Vanderbilt, Robert Graysmith
Principal actors: Jake Gyllenhaal, Mark Ruffalo, Anthony Edwards, Robert Downey, Jr.
While working as a political cartoonist for the San Francisco Chronicle in the late 1960s and '70s, Robert Graysmith becomes engrossed with seemingly random murders committed by a person who sends letters and ciphers to the newspaper. Director David Fincher,(Seven), through his characters, tracks suspects based on Graysmith's two exhaustive books on the Zodiac killer. Jake Gyllenhaal portrays Graysmith as a man so obsessed with the killings that he loses his family, friends and almost, touch with reality.
The film opens with in-your-face violence as a young couple stopped for what could be a bit of necking, get nervous when another car pulls up behind them. A dark clothed figure approaches the car and shoots the cute young blond, killing her. Her friend is shot several times but he manages to survive. Another young couple are enjoying a picnic in the woods when approached by a stranger who acts like he wants to rob them but then ties them up, stabbing them both with only the man surviving. Notoriously drunk crime reporter Paul Avery (Robert Downey, Jr.) feeds Graysmith bits of evidence on the crimes like flakes to a goldfish, hooking Graysmith with the story of a lifetime. Graysmith begins with the first coded letter, later solved by an ordinary crossword puzzle enthusiast - not the FBI or CIA. Inspector David Toschi (Mark Ruffalo), grudgingly aided by the reporters, believes he has found the killer only to lose him due to lack of evidence. Over the years Graysmith doggedly tracks his man, with unofficial help from Toschi, until he gets a positive identification from a survivor.
Superb acting and attention to detail render this film totally absorbing with entertaining reminders of how much times have changed. Imagine police driving to a locked phone box to call the office, no fax machines, no instant communication via email or cell phones, no DNA testing. Whodunit? You be the judge. (Mary Nyiri)