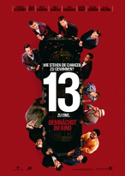 Opening 7 Jun 2007
Directed by: Steven Soderbergh
Writing credits: Brian Koppelman, David Levien
Principal actors: George Clooney, Brad Pitt, Matt Damon, Eliott Gould, Al Pacino
With George Clooney and Brad Pitt leading the way, the same cast reunites for the new Ocean's movie – with the exception of the ladies: Ellen Barkin steps in, while Julia Roberts and Catherine Zeta Jones step out. Al Pacino is the heavy-weight bad guy this time around. The sequel is, once again, directed by Steven Soderbergh.
Danny and his team return to Las Vegas to settle a score with Willy Bank (Pacino), who has conned their old pal Reuben Tishkoff (Eliott Gould) out of most of his money and into a heart attack. Bank is about to open 'The Bank', one of the most opulent casino and hotel complexes to be seen in Las Vegas to date. Not only does he plan to make millions at the tables, but he's also counting on winning the prestigious 5 Diamonds Award to complete his collection (he has already won it for all his other hotels around the world).
Danny and the gang's plan for revenge is simple: break 'The Bank', ensure the 5 Diamond Award is not granted and, while they're about it, steal the priceless diamond necklaces Bank bought for his wife each time he previously won the award.
While very clear in its intention, carrying out the plan will demand the most cunning and masterful strategies that Ocean and his team have come up with to date; and they do come up with some beauties.
Many people will admit that there's something delightful about ripping off obnoxiously wealthy casino owners; so this kind of public support is a good starting point for any movie! Add to this another clever script, a perfect selection of music, and the ease with which this group of actors and director work together, and chances are you'll thoroughly enjoy Ocean's 13. (Osanna Vaughn)