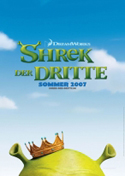 Shrek der Dritte (Shrek the Thrid)
U.S.A. 2007
Opening 21 Jun 2007
Directed by: Chris Miller
Writing credits: Andrew Adamson, Howard Gould
Principal actors: Mike Myers, Cameron Diaz, Eddie Murphy, Antonio Banderas, Julie Andrews
The voices of Mike Myers, Eddie Murphy, Cameron Diaz, Antonio Banderas and the rest of the Shrek cast, receive additional support this time around from Justin Timberlake and Eric Idle. Chris Miller wrote the screenplay and directed.
On his death bed, King Harold (John Cleese) names Shrek (Myers) his successor, a proposal far removed from the plans of our favourite green ogre: he just wants to return to his beloved swamp in the company of his darling wife Fiona (Diaz). The only solution is to go in search of and bring back the second in line, the young Artie (Timberlake). With Shrek absent from the castle, Prince Charming (Rupert Everett) makes his move to reclaim what he considers rightfully his: the throne of Far, Far Away. Of course, Prince Charming's plan is throttled, Artie is crowned king, Shrek and Fiona return home, and everyone lives happily ever after.
There is a certain relief to be found in the simplicity of the story behind Shrek the Third. Sequels tend to get more and more complicated, demanding the utmost attention of the viewer to keep track of what on earth is going on. With Shrek the Third one can simply relax, sit back and enjoy the humour that draws on everything from the tried-and-true to the outrageous, all to the beat of some great classic pop songs, as well as others specially composed for the movie.
Shrek fans shouldn't be disappointed. The technology has advanced in leaps and bounds over the past years, but the charm of this bunch of characters and the actors behind them is still perfectly in tact. (Osanna Vaughn)