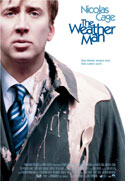 Opening 2 Mar 2006
Directed by: Gore Verbinski
Writing credits: Steve Conrad
Principal actors: Nicolas Cage, Michael Caine, Hope Davis, Gemmenne de la Peña, Nicholas Hoult
This movie stars Nicolas Cage, Michael Caine, Nicholas Hoult (About a Boy), and was directed by Gore Verbinski.
If The Weather Man was a weather forecast, it would be predicting overcast skies, monotonous drizzle and the kind of cold humidity that really gets into the bones; and, in spite of the movie's message that the weather is, in fact, unpredictable whether you're a trained meteorologist or not, this forecast would be totally accurate. Well, maybe I did forget the rays of weak sun that breaks through the cloud cover towards the end; or maybe I completely missed an ingenious satire on the American Dream. I was not alone, however; more than one person was asleep and others left the cinema.
This is Nicolas Cage (David Spritz in the film) in his typecast role of pathetic, uninspired and unsympathetic whatever, with no apparent excuse for his depressed outlook, foul language and, at times, violent behaviour. The brief moments when he appears on TV giving the weather forecast, actually show that he is capable of playing a friendly, everyday kind of Joe. This is also Michael Caine doing another failed American accent. He plays Spritz's father, a Pulitzer Prize-winning author dying of lymphoma; yet he is incapable of preventing the working-class, cockney lilt he's renowned for from slipping through.
It's unfortunate that Nicholas Hoult's follow up to About a Boy should be in a movie that will be so easily forgotten. As Spritz's son, the young actor did put on a competent performance. (Osanna Vaughn)