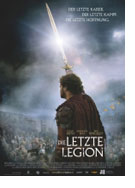 Opening 30 Aug 2007
Directed by: Doug Lefler
Writing credits: Jez Butterworth, Tom Butterworth, Carlo Carlei, Peter Rader, Valerio Manfredi
Principal actors: Colin Firth, Ben Kingsley, Aishwarya Rai, Peter Mullan, Kevin McKidd
Starring Colin Firth (Bridget Jones' Diary), Ben Kingsley (Ghandi), Aishwarya Rai (Bride and Prejudice), and Thomas Sangster (Love Actually), The Last Legion is directed by Doug Lefler (Dragonheart 2). The screenplay is written by Jez and Tom Butterworth, based on the book by Valerio M. Manfredi.
The story is set in the year AD 476 when Rome has lost most of its influence in Europe. The 12-year-old Romulus Augustus (Sangster) is crowned emperor, yet within days the city is attacked and conquered by barbarians. The young Caesar and his elderly tutor – a Briton, versed in the art of magic, by the name of Ambrosinus (Kingsley) – are taken captive to the island of Capri. While imprisoned there, Ambrosinus comes to understand that this is where a fabled sword, Calibur, wrought in Britain for the Roman Emperors, has been hidden, awaiting its rightful heir. Ambrosinus guides Romulus to its hiding place. Aurelius (Firth), head of the emperor's guard, a few surviving soldiers, and the versatile Byzantine warrior Mira (Rai), make their way to Capri and manage to rescue the emperor and his tutor. As a return to Rome is out of the question, the only hope Aurelius sees is to go to Britain in search of the ninth legion and then return to retake the city.
Crossing the Alps and Gaul, travelling up through Britain, the weary travellers finally reach Hadrian's Wall and the outpost of the last Roman legion. They find the fort empty; the legionnaires – believing themselves abandoned by Rome – have intermarried with the local population and are dispersed around the vicinity, keeping a low profile and hiding from the eyes of the mysterious Lord Vortgyn who controls the country. With the appearance of the young emperor and his companions, the fealty of the legion is put to the test in a final showdown with Vortgyn and the Goths.
Produced by Rafaella and Martha de Laurentiis, respectively daughter and wife of Dino de Laurentiis, The Last Legion aims to be an epic production. Unfortunately it fails. The idea of linking the last Roman emperor to the Arthurian legend is an interesting one, but in a 102-minute film, there is simply not enough time to develop it adequately. The same can be said for the characters – with the possible exception of Ambrosinus. In the aftermath of The Lord of the Rings, viewers have been set a high standard for dialogue, costumes, sets and make-up; these also fall short... or in excess, if one considers the perfect eye and lip make-up of the leading lady, former Miss Universe Aishwarya Rai – even after a strenuous solo fight against a dozen Goth warriors. Even so, the movie is far from a total disaster and may be an alternative for a rainy autumn afternoon. (Osanna Vaughn)