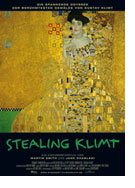 Opening 6 Sep 2007
Directed by: Jane Chablani
Writing credits: Martin Smith

Imagine being the niece of the model who sat for one of the most famous paintings in the world. Imagine owning not one, but five pictures painted by one of the most famous artists in the world. British director Jane Chablani tells the true story in documentary form of Maria Altman's struggle to claim these pictures, which were painted by Gustav Klimt.
Maria was born into a fabulously wealthy family and illustrates the point with an anecdote about her father. He was lent a Stradivarius violin by one of the Rothschilds and felt honour bound to hold weekly musical soirees in order to play it.
The Austrian painter Gustav Klimt was known for befriending and painting the portraits of wealthy women, and he was so enamoured of Maria's aunt, Adele Bloch-Bauer, that he painted her twice and made hundreds of sketches of her. The most famous painting shows a beautiful woman wearing a superb jewelled choker and is nicknamed The Golden Adele. In her will Adele left both her portraits and three landscapes also by Klimt to her husband Ferdinand and asked that they go to the Austrian National Gallery after his death. Adele died in 1925, however, and at that time women had no rights under Austrian law. Ferdinand in turn willed the paintings to Adele's sister's children, one of whom was Maria. She grew up, got married and continued to live her charmed life until 1938, when the Nazis marched into her homeland. Maria's husband exchanged his cashmere factory for a ticket out of Dachau, and the pair eventually found their way to California. The paintings went the way of all Nazi loot, and Adele's glittering diamond choker found its way onto the not so glamorous neck of Hermann Goering's wife.
Martin Smith, who wrote the screenplay for Stealing Klimt, considers the question of holocaust restitution and whether the work of Austria's most famous painter should remain in the country of his birth, on display to its citizens, as Adele intended. It is a pity that Austria's culture minister, who played a prominent part in the legal struggles for the paintings, declined to be interviewed for the documentary, because it is rather one-sided as a result.
Maria's case was tested in Austrian and American courts, including the Supreme Court. Justice is eventually served, but only after a long drawn-out struggle. Why then are you are left with a feeling of disappointment at the end of the film? It is a tribute to Ms. Chablani and Mr. Smith that their documentary leaves you wanting to discuss the questions it raises further. (Jenny Mather)