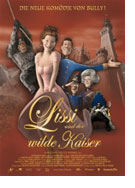 Lissi und der wilde Kaiser (Lissi and the Wild Emperor)
Germany 2007
Opening 25 Oct 2007
Directed by: Michael Herbig
Writing credits: Alfons Biedermann, Michael Herbig
Principal actors: Michael Herbig, Christian Tramitz, Rick Kavanian, Lotte Ledl, Gerd Knebel
This animated movie is a parody of the life of Elisabeth Amalie Eugenie (1837-98), empress of Austria-Hungary. She lives in a castle (Schloß Schöngrün) with her husband Franz, a bossy mother-in-law, a mostly absent father-in-law, and a Feldmarschall (which, in the olden days, was the highest ranking military officer, but is, in this case, more of a glorified butler). She and Franz are happily engaged in frivolous pastimes until a frightful Yeti creature (who has a likeness to German politician Kurt Beck) kidnaps Lissi. The rest of the family searches for her and all end up in a Neuschwanstein-type castle (called Schloß Neuzahnstein) ruled by King Bussi of Bavaria who looks like a rock and roll Harley motorcyclist. Two Bavarian characters, Ignaz and Schwaiger, attempt to shoot down the Yeti.
More interesting than the film is its history. Director Michael Bully Herbig and his friends Rick Kavanian, Christian Tramitz, and Alfons Biedermann, have made a trilogy with material taken from their popular TV shows bullyparade and Bully & Rick, as well as an older radio show called Bayern-Cops and Männer von Isar 3. Parts I and II of the film trilogy were spoofs: Das Schuh des Manitu (based on stories of Winnetou und der Schatz im Silbersee by Karl May), which was the most successful German film of all time, and (T)Raumschiff Surprise (based on Star Trek). Contrary to their former films, they decided against playing the parts live. This is their first animated film, although Herbig still "plays" Lissi, i.e., her animated face looks just like him.
Whether animation is the answer is questionable. Naturally one can't compare Scanline animation company with Pixar Studios, but Ratatouille, for example, comes alive, while Lissi stays flat throughout. Also, the storyline seems unoriginal – a remake of Shrek, Part I, with the Yeti figure who kidnaps the empress, a clone of Shrek. I kept thinking of the animated Barbie films sprinkled with spicy language, although this film is for age six and over. It stretches too long. I said to my German colleagues, "I don't think I understand German humor or perhaps I don't know enough about the history to understand the references." They answered, "Neither do we."
In a way the actual Empress Elisabeth of Austria has now come full circle from tragedy to comedy. Her husband, Emperor Franz Joseph, fell in love with her at first sight during his engagement party with her sister Helene. He dumped Helene and married Elisabeth in 1854. She adjusted to court poorly and was lonely. Her son, crown prince Rudolf, committed suicide in 1889 and she was murdered by an Italian anarchist at age 61. In the 1960s her life was filmed with Germany's own Romy Schneider playing Elisabeth aka Sissy. These icky sweet Sissy films were constant fare on German TV in the 1970-80s. Herbig and his friends grew up on them, and they now provide the basis for the Herbig film.
How much more alive Michael Bully Herbig is than his film was obvious during a press conference in Hamburg. Herbig is enthusiastic about the art of animation, which he now knows well after working three years on the film. Live, his voice-overs of Lissy, Falthauser, and Ignaz, are hilarious. He glows with charisma and personality. His film partner Rick Kavanian missed the press conference but was online by phone, which didn't diminish his talent as he gave us versions from Frankfurt airport of the Feldmarschall, King Bussi of Bavaria, the Spanish-speaking flies, and Schwaiger. Perhaps Herbig's next idea, a thriller, will be back to his old standards. This can be chalked up as an interesting attempt at something new; a vanity film. If you think I am wrong, I'll be happy to listen to reasons why. (Becky Tan)