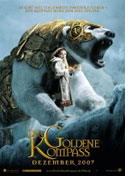 Der Goldene Kompass (The Golden Compass)
U.S.A./U.K. 2007
Opening 6 Dec 2007
Directed by: Chris Weitz
Writing credits: Philip Pullman, Chris Weitz
Principal actors: Nicole Kidman, Daniel Craig, Dakota Blue Richards, Ben Walker, Freddie Highmore
Chris Weitz directs Dakota Blue Richards, Nicole Kidman, Sam Eliott and Daniel Craig, in the film based on Philip Pullman's bestseller Northern Lights, the first book in the His Dark Materials trilogy. Screenplay also by Chris Weitz.
Lyra's (Richards) story takes place in a world parallel to our own; similar yet fundamentally different. Here human beings are accompanied by an outer manifestation of their soul, which takes on the appearance of an animal and is known as their "daemon". Lyra lives at Jordan College in Oxford, where the buildings are familiar but the technology pretty much unrecognisable. Apparently an orphan, she has been put there by her enigmatic uncle, Lord Asriel (Craig), to be educated and to become a lady – both things Lyra is not very keen on. She prefers to hang out with her young friend Roger (Ben Walker) and other children she meets outside the college confines, despite the risk of being caught by the mysterious "Gobblers", who are responsible for the disappearance of street kids.
However, when the beautiful Marisa Coulter (Kidman) takes an interest in Lyra, the young girl agrees to visit her home for a while. Gradually, it becomes clear that all is not as it should be and that Mrs. Coulter harbours a dark secret. Lyra escapes and is taken under the wing of the Gyptians who have suffered the loss of many of their children to the Gobblers; and when she discovers that her friend Roger has also disappeared, she knows she has to act. Together with her daemon, Pan, her new friends and others she makes along the way, Lyra sets off for Bolvangar in the north, where the terrible secret of the disappearing children is revealed and a desperate rescue is attempted...
The Golden Compass is a rather simplified version of Pullman's book, making it a film that young, fantasy-fan teenagers will probably enjoy, as long as they can accept it as an adaptation. The sets, special effects and overall look are stunning and the acting solid. (Osanna Vaughn)