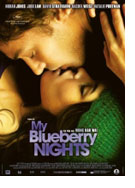 Opening 24 Jan 2008
Directed by: Kar Wai Wong
Writing credits: Kar Wai Wong, Lawrence Block
Principal actors: Norah Jones, Jude Law, David Strathairn, Natalie Portman, Rachel Weisz
Written (also by Lawrence Block) and directed by Wong Kar Wai (2046, Eros), My Blueberry Nights stars Jude Law (Closer, The Holiday), Natalie Portman (Closer, Star Wars Episodes I, II and III) and singer songwriter Norah Jones, in her cinematic début.
Suffering from a broken heart, Elizabeth (Jones) takes refuge at a cosy café run by Jeremy (Law). Here she finds a friendly listener and an excellent blueberry pie, but, despite her growing fondness for both, it is a working road trip she needs to really regain herself and her heart.
Moving across the country from one waitressing job to the next, keeping in touch with Jeremy by means of postcards, Elizabeth encounters personal dramas and confused relationships that make her own story pale by comparison. It takes her about a year to truly appreciate the value of blueberry pie and all it represents...
As director Wong Kar Wai explains, the idea explored in this movie is the fact that while the physical space between two people may be small, emotionally they may be worlds apart. With the help of an excellent cast (also including David Strathairn and Rachel Weisz), Wong presents a diversity of complex relationships, that leaves one grateful for the simple things in life – such as blueberry pie. (Osanna Vaughn)