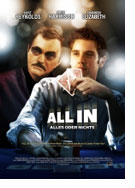 All in - Alles oder nichts (Deal)
U.S.A. 2008
Opening 12 Jun 2008
Directed by: Gil Cates Jr.
Writing credits: Gil Cates Jr., Mark Weinstock
Principal actors: Burt Reynolds, Bret Harrison, Shannon Elizabeth, Maria Mason, Gary Grubbs
On the eve of his graduation, Alex Stillman (Bret Harrison) plays poker with friends, a skill he has developed while at college. He engages in an online competition and to his astonishment wins and will play in a televised poker tournament. At his graduation his father (Gary Grubbs) is clear about his displeasure, although at that time his mother (Caroline McKinley) is more acquiescing.
Ex-professional Tommy Vinson (Burt Reynolds) promised his wife Helen (Maria Mason) twenty years earlier never to play poker again after his obsession almost ruined their family life. But he cannot shake his passion. One afternoon watching a tournament on TV, Tommy spots Alex playing and quickly realizes the kid's potential.
Tommy approaches Alex with his deal: Tommy will back Alex with both the fees to get into tournaments and his game knowledge if Alex plays the way Tommy teaches and tells him to, based on trust, with winnings split 50 – 50. The goal is for Alex to play in the World Poker Tournament. Tommy tells Alex he wishes he had had someone to guide him when he was Alex's age. Ultimately Alex agrees, and so the games begin.
Long-time friend Charlie Adler (Charles Durning) gamely helps Tommy approach Alex, and subsequently levels with Helen when she asks why Tommy has broken his promise. Alex's poise is enhanced considerably when he meets Michelle (Shannon Elizabeth) at his first important Las Vegas tournament. Even when she says she wishes they had met at a different time, he is blinded by love. Strong supporting roles from Jennifer Tilly and a host of the real-life WPT stars round out the cast.
Gil Cates Jr.'s skillful direction and a script with well-developed characters we like more as we get to know them draw us in to the predicaments that unfold. The editing is nicely paced. The editor's use of time remapping (speeding up a short section within a sequence) during the poker tournaments and Las Vegas shots accelerates the tension, as does the music score and songs throughout the film.
This is a simple movie that delivers a lot. No one walks away a loser — one has his dignity, one his future, and we have a good time. (Marinell Haegelin)