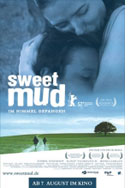 Opening 7 Aug 2008
Directed by: Dror Shaul
Writing credits: Dror Shaul
Principal actors: Tomer Steinhof, Ronit Yudkevitz, Shai Avivi, Pini Tavger, Gal Zaid
Seldom does a simple story have so much to say about growing up, family, right from wrong, parental love, the loss of youth, and choices. Wrapped in the golden tones of an Israeli summer, we meet 12-year old Dvir Avni (Tomer Steinhof) in 1974 as he helps with kibbutz husbandry. Dvir lives in the Children's House yet has a special bond with his emotionally unstable mother Miri (Ronit Yudkevitch) whom he defends, "Mama has a good heart," although the community undermines her. At school he contends with taunts about his father's death and prepares for Bar Mitzvah at the end of the year. When Maya (Danielle Kitzis) arrives from Paris, an attachment develops between them.
The kibbutz members vote and allow Miri's Swiss friend Stephen to visit; all wait with bated breath for his arrival. Stephan (Henri Garcin) surpasses their expectations, initially since he is old enough to be Miri's father and then the "faire la vie" he brings into their lives.
A kite contest goes wrong, thanks to Avraham (Shai Avivi), the kibbutz "captain" and bully, setting in motion events that culminate with Miri telling Dvir, "They (the people in the kibbutz) suffocated your father. They will suffocate you, too. Leave!"
The story centers on kibbutzim, which began in the early 20th century. It combines socialism and Zionism to form one of the largest communal movements in history. The kibbutz "character" in this story wields a huge influence on its inhabitants' collective personality. Appreciate the nostalgia, and focus on Dvir's journey into adulthood.
Dror Shaul, writer/director combines humor and sensitivity in this film, perhaps acquired through having grown up in a kibbutz and the fact that his mother was dysfunctional. His artful direction helps us understand the communal lifestyle; his characters, adeptly portrayed, are people we can relate to. Technically sound, the Deutsche Fassung is not obtrusive since the voices are unknown; the distributor could have included the English subtitles to reach a wider audience.
When Miri says, "Now I want to sleep – do you understand me – you must help me" my heart reaches out to Dvir, a boy more grown-up than many of the adults around him. To understand, see this sweet surprise of a film. (Marinell Haegelin)