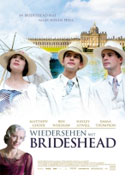 Wiedersehen mit Brideshead (Brideshead Revisited)
U.K. 2008
Opening 20 Nov 2008
Directed by: Julian Jarrold
Writing credits: Andrew Davies, Jeremy Brock, Evelyn Waugh
Principal actors: Matthew Goode, Hayley Atwell, Ben Whishaw, Emma Thompson, Michael Gambon
Based on Evelyn Waugh's novel of the same title, this grand scale film is directed by Julian Jarrold (Becoming Jane) and stars Matthew Goode (Matchpoint), Ben Whishaw (I'm Not There), Hayley Atwell (Cassandra's Dream), and Emma Thompson (Much Ado About Nothing, Love Actually). The final screenplay was written by Jeremy Brock.
Charles Ryder (Goode), only son of a dour, widowed London merchant, is off to Oxford to study history. In fact, Charles's true passion is painting, so it is hardly surprising that he is drawn to the colourful and eccentric Sebastian Flyte (Whishaw), youngest son of Lord and Lady Marchmain (Michael Gambon and Emma Thompson).
Sebastian eventually takes Charles to the ancestral home – Brideshead, where the young artist is overwhelmed by the beauty of the property and does his best to fit in. There is one area, however, where he is unwilling to make any compromises: while the family is Catholic, Charles is a firm atheist. The family members have different ways of dealing with the severe devotion of Lady Marchmain: Sebastian flaunts his homosexuality and alcoholism, but suffers remorse when faced with his mother's loving, but adamant disapproval; Julia (Atwell), Sebastian's sister, resists to a degree but will not rebel against her mother; Lord Marchmain has escaped to Venice to live with his mistress, Cara (Greta Scacchi).
Though devoted to Sebastian, Charles begins to be drawn to Julia, and when the three travel to Italy to visit Lord Marchmain, there is a brief moment when they share a passionate embrace. Julia, however, refuses to succumb to her feelings and agrees to follow her mother's plan for her marriage to a wealthy, Catholic businessman. Sebastian, distraught by Charles's shift in affections, dives even deeper into his wanton lifestyle, finally escaping to Morocco. Charles has to accept that Brideshead and its inhabitants are no longer open to him.
Time passes, Charles marries and becomes a successful painter; then, one day, while crossing the Atlantic on a luxury liner, Julia reappears in his life and he is drawn back to Brideshead...
In the early eighties, the BBC made a TV series out of Brideshead Revisited, starring a young Jeremy Irons. To date, it had never been made into a full scale movie. Maybe the story needed the time available to a series. On the big screen, whilst full of beautiful imagery, wonderful costumes and good performances (Emma Thompson, in particular), it seemed as though there was not enough time to really develop the subtleties of the relationships. Towards the end, it blatantly asks the question: was Charles really in love with the individuals or just enamoured with the place and the lifestyle. It's a valid question, but was not obvious till it was spelled out in words... in case the viewer had not understood it. Maybe the fact that I did not feel a strong connection to the characters or their relationships answers the question. On the other hand, I did not get a strong sense of Charles relationship to Brideshead either. (Osanna Vaughn)