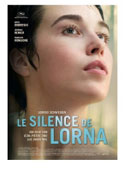 Opening 9 Oct 2008
Directed by: Jean-Pierre Dardenne
Writing credits: Jean-Pierre Dardenne, Luc Dardenne
Principal actors: Arta Dobroshi, Jérémie Renier, Fabrizio Rongione, Alban Ukaj, Morgan Marinne
Immediately we are plunged in to Lorna's (Arta Dobroshi) dreary existence, her loveless marriage to Claudy Moreau (Jérémie Renier) a drug addict and a persistent concern for money. When she meets Fabio (Fabrizio Rongione) we realize he is behind this con, marriage for a green card. A young Albanian, Lorna wanted quick citizenship so she can open a snack bar with her boyfriend Sokol (Alban Ukaj) in Liege, Belgian. Claudy, determined to break his habit, repeatedly begs Lorna for help, chipping away at her reserve.
However Fabio's broader quick-money scheme is: kill Claudy and then widow Lorna will marry a wealthy Russian Mafioso thereby paving his way to quick legitimate papers. Instead Lorna devises a plan whereby she and Claudy divorce. Before they scour prospective snack bar sites, Sokol tells Lorna to let Fabio make the decisions. Both Fabio and Claudy seem to accept her idea, until nature and morality collide.
Jean-Pierre and Luc Dardenne, directors and screenplay, are Belgium's cinematic truth-seekers weaving ethical uncertainty involving the seedier side of reality into their films. This film draws us in with quick steady pacing, flawless vérité camera work where we miss nothing as every environment is utilized, credible dialogue and attention to nuances from the directors and the skilled actors. We feel Lorna's financial anxiety, are riveted as Claudy clings to her knees, tremble listening to Fabio's plan and hold our breath when she counters his orders.
Why then, when Lorna seems to have a handle on her moral dilemma, does the story take an abortive turn which leads to an ending out of context with the beginning? The climax of Lorna and Claudy's relationship seems to be the story's climax; at this juncture about halfway through, the prize-winning 2008 Cannes Film Festival script takes a detour. The story becomes uneasy, less believable — the tempo slows, the edge is blunted — to an unsatisfying conclusion.
Instead of crossing (or not depending on which point of the script we talk about) an ethical abyss, Lorna sinks into insanity, fixated on a fetus that according to a doctor does not exist. Emotionally, we are all cast adrift. Lorna has not been silent; we viewers have not been fulfilled, but even so the Dardennes' do not disappoint. Their superb editorial finesse, the brilliant performances, the first-rate camera and technicalities nevertheless present a worthy film. (Marinell Haegelin)