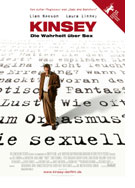 Opening 3 Mar 2005
Directed by: Bill Condon
Writing credits: Bill Condon
Principal actors: Liam Neeson, Laura Linney, Chris O'Donnell, Peter Sarsgaard, Timothy Hutton
Alfred Kinsey's book, based on his ground breaking scientific research, Sexual Behavior in the Human Male, was first published in 1948 and sold out within days. Eventually, it became the basis for the first school classes in sexual education, the underlying impulse for the 60s sexual revolution, and the background for the Masters and Johnson study of sexuality, Human Sexual Response, published in 1966. Today, the Kinsey Institute at Indiana University, along with many other scientists and their research centers, continue the study of sex, gender and reproduction to help doctors, psychiatrists and all of us understand this most basic, and often still, most misinformed, aspect of human behavior. Even as this movie is being seen by audiences in America and Europe, Kinsey continues to be regarded as a controversial scientist and his work is vilified and depreciated by forces who oppose the study of sex and the answers that come from it. This film is a brilliant biography of Alfred Kinsey and his revelatory research.
Kinsey, born in 1894, grew up with a cruel, stern and dominating father in a strait-laced age. As a child, he developed a fascination for biology and even at a very young age, observed and recorded the habits of animals and insects in his area with scientific devotion. With a doctorate from Harvard, Kinsey came to the University of Indiana in 1920 as an assistant professor in Zoology where he was an expert on the gall wasp. (He collected over a million samples.) There he met and married the unconventional Clara McMillen, one of his students. His own experience with sex, both the repression caused by his father's extreme views on the sinfulness of sexuality and the happy discoveries he made with his wife, gave him great compassion with students who confessed to sexual problems in their marriages. Spurred by the unhappiness of some of the students, he began teaching a class on marriage, which focused, daringly, on sex. Soon his students were bombarding him with questions, and he realized that neither he, nor anyone else, seemed to know very much about human sexual behavior. What WAS "normal"? Was anything not "normal"? What about masturbation? Homosexuality? Frigidity? And where does love come into the picture? As a scientist Kinsey resolved to study sex scientifically and unemotionally. Needless to say, he wasn't entirely successful with the latter.
The director, Bill Condon (Gods and Monsters), who also wrote the film, chose Liam Neeson to play Kinsey and Laura Linney as his wife, "Mac". Both are truly wonderful in their roles. Neeson perfectly embodies the driven scientist and Linney, gently ironic, is loving and deeply involved from the very first. Kinsey's research on human sexuality was supported (much to the surprise of their boards) by both the University of Indiana and the Rockefeller Institute. But after the publication of Sexual Behavior in the Human Female in 1953, which was seen by the public as an attack on American moral values and the sanctity of American women, Kinsey's life changed. Public outrage and scorn, the loss of his financial benefactors and the inevitable problems his research team experienced with the sexually-free utopia in which they had been living, caused him great anguish. He died in 1956, certain his life's work had been a failure, according to his biography.
Kinsey developed a method of interviewing his subjects designed to put them at ease and make it possible for them to answer the most intimate questions. Condon, very successfully, uses this same technique to tell Kinsey's own story. The result is a riveting, often moving, film that leaves you bubbling with questions and enough material for days of intense conversation with your friends and family. (Adele Riepe)