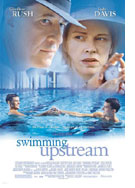 Gegen die Strömung (Swimming Upstream)
Australia 2003
Opening 19 May 2005
Directed by: Russell Mulcahy
Writing credits: Anthony Fingleton, Diane Fingleton
Principal actors: Geoffrey Rush, Judy Davis, Jesse Spencer, Tim Draxl, David Hoflin
This film is another example in the suddenly pervasive "true story" genre. In this case, however, there is a chance that the film reflects reality more than most. The script's author, Anthony Fingleton, was himself the protagonist, a young man whose desperate efforts to please his domineering and denigrating father remained an impossible goal even after he came home with nearly every championship he could win as a swimmer in Australia. The movie was directed by Russell Mulcahy, best known to American audiences for thrillers such as Ricochet with Denzel Washington.
Geoffrey Rush, as the brutally insulting father Harold Fingleton, is relentlessly despicable to his second son, Tony. But Rush seems too elegant and refined to be believable as a longshoreman on the wharves of Brisbane, drinking beer with his muscled, macho sidekicks or taking on the police in strike battles. Nonetheless, the actor breaks your heart with his sneering remarks and cold blooded disregard of the young boy so eager for his father's approval. As Tony (Jesse Spencer) grows older, Harold pits him against his brother John (Tim Draxl), nearly destroying their relationship, along with Tony's self-confidence. But the young man triumphs, despite Harold's downward spiral into alcohol, brutality and a last, devastating betrayal.
Tony's strength comes in part from his mother's unwavering support and as Dora, Judy Davis is superb. Her performance allows us to accept Dora's allegiance to her husband despite his unforgivable behavior, and see him as she does – a man in the grip of his own fears of weakness and failure. It appears that Tony's very nature exacerbated those fears.
The film, painful to watch, is ultimately disappointing and its "uplifting message" has to be spelled out in a voiceover at the end – always a bad sign. (Adele Riepe)