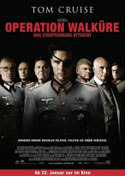 Operation Walküre – Das Stauffenberg Attentat (Valkyrie)
U.S.A./Germany 2008
Opening 22 Jan 2009
Directed by: Bryan Singer
Writing credits: Christopher McQuarrie, Nathan Alexander
Principal actors: Tom Cruise, Kenneth Branagh, Bill Nighy, Tom Wilkinson, Carice van Houten
In July 1944, at the height of WWII, an assassination attempt on Adolf Hitler was perpetrated. The conspirators appropriated an operational plan already in place as their putsch strategy, Operation Walküre, making slight yet crucial changes.
In 1943 Colonel Claus Graf Schenk von Stauffenberg (Tom Cruise) is severely wounded in Africa. He recuperates at home with devoted wife Nina (Carice van Houten) and children; then he is sent to Berlin as a staff officer to the headquarters of the Ersatzheer (Replacement Army).
A resistance group within the Wehrmacht (High Command of the Armed Forces) gains fresh impetus when Stauffenberg, recruited following Major-General Henning von Tresckow's (Kenneth Branagh) suggestion, joins them. Other core upper echelon members are: Colonel-General Ludwig Beck (Terence Stamp), General Friedrich Olbricht (Bill Nighy), Generalfeldmarschall Erwin von Witzleben (David Schofield), Colonel Mertz von Quirnheim (Christian Berkel) and politician Dr. Carl Goerdeler (Kevin McNally).
The conspirators hope to take control of the country, implement a shadow government and without Hitler at the helm, rectify Germany with the Allied countries. Central to the plan is the Commander-in-Chief of the Replacement Army, General Friedrich Fromm (Tom Wilkinson).
Stauffenberg receives an advantageous promotion that gives him direct access to Adolf Hitler (David Bamber). With his aide-de-camp Lieutenant Werner von Haeften (Jamie Parker), Stauffenberg conveys paperwork for Hitler to Hitler's headquarters at the Wolfschanze (Wolf's Lair). Stauffenberg comes under the scrutiny of Colonel Heinz Brandt (Tom Hollander), Dr. Joseph Goebbels (Harvey Friedman), Field Marshal Wilhelm Keitel (Kenneth Cranham), Heinrich Himmler (Matthias Freihof) and other participants of Hitler's inner circle.
By this time Hitler is both ill and paranoid; the resistance group, unable to adhere to its meticulous plans, begins to improvise. Essential to these men is "to prove to the world and for the records of history that the men of the resistance dared to take the decisive step."
Accolades to the cast and crew for this excellent depiction; to retell history and keep an audience on the edge of their seats is masterful. Christopher McQuarrie and Nathan Alexander's superb script and Bryan Singer's brisk direction compels our complete attention. This combined with John Ottman's meticulous editing, Newton Thomas Sigel's relentless camerawork, and original music that enhances the film's emotional gamut from John Ottman. Even though the extent of involvement from the other members in the plot are overshadowed by the attention given to the Stauffenberg–Cruise role, in this historical thriller we re-live a momentous event that will surely whet your appetite to know more about times past. (Marinell Haegelin)