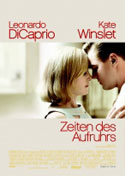 Zeiten des Aufruhrs (Revolutionary Road)
U.S.A./U.K. 2008
Opening 15 Jan 2009
Directed by: Sam Mendes
Writing credits: Justin Haythe, Richard Yates
Principal actors: Leonardo DiCaprio, Kate Winslet, Michael Shannon, Ryan Simpkins, Ty Simpkins
Adapted from Richard Yates' novel Revolutionary Road, with a screenplay by Justin Haythe, this drama stars Leonardo DiCaprio and Kate Winslet, and is directed by Sam Mendes (American Beauty).
When Frank (DiCaprio) and April (Winslet) meet, they each believe themselves above conforming to the expectations of American society in the fifties; yet, before they know it, they're married, have two children and own a suburban home on Revolutionary Road. Despite Frank's commuting job in the city, April's home-maker life, and the gradual deterioration of their relationship, the two still like to imagine themselves unique and special. And their friends and neighbours are only too happy to agree and encourage them in the belief.
April is the first to acknowledge where they're heading, recognizing that a dramatic change in their lives is their only salvation. She decides the family should move to Paris where she can surely get a well-paid secretarial job, allowing Frank the time to discover who he is and what he really wants to do. It takes a bit of convincing, but Frank is eventually on board; yet, from that moment on it seems that everything contrives to thwart their plans – a promotion, a new pregnancy and, not least, their own fears.
Not having read the book, I'm unable to say if this movie is a good adaptation or not. In its own right, however, it is a convincing drama that touches a very real theme – even for nowadays – and earned DiCaprio a well-deserved Golden Globe nomination and Winslet a Golden Globe win. The film was also nominated for best picture and best director. (Osanna Vaughn)