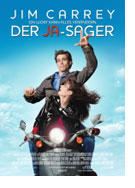 Opening 19 Feb 2009
Directed by: Peyton Reed
Writing credits: Nicholas Stoller, Jarrad Paul, Andrew Mogel, Danny Wallace
Principal actors: Jim Carrey, Zooey Deschanel, Bradley Cooper, John Michael Higgins, Rhys Darby
Peyton Reed (Girls United) directs Jim Carrey (The Mask, Liar Liar) and Zooey Deschanel (Almost Famous) in a comedy with screenplay by Nicholas Stoller, Jarrad Paul and Andrew Mogel, based on a book by Danny Wallace.
Imagine replacing the word "no" in your vocabulary with the word "yes." Great premise for a story.
Carl Allen's (Carrey) life has taken a downward spiral of negativity since his wife left him three years earlier. Slowly but surely, the word "no" is putting an end to any kind of normal existence he ever had. Before it's too late, however, fate steps in and Carl decides to attend a self-help seminar where he is challenged to say "yes" to life. To his surprise, he discovers that the approach actually seems to work miracles – not least in the form of Alison (Deschanel) – and it's not long before he's following his new religious creed – a creed which says "yes" = reward, "no" = punishment – with the fervor of a fanatic. Extremism, however, doesn't pay off: though leaping from strength to strength with a rosy-looking future opening up before him, Carl suddenly finds the rug pulled from beneath his feet. The threads of his new life begin to unravel fast, till he reaches a final and all-important revelation.
This is the kind of Carrey movie I can thoroughly enjoy: a fun premise, and a balanced mixture of straightforward comedy with a moderate dose of Carrey's extreme, physical gimmicks. Similar to Liar Liar (which looked at the truth versus "white" lies), it's based on a simple question: what if I said yes to every opportunity that comes my way or every request made to me? It's an interesting question that many have probably asked themselves: Jim Carrey and the rest of the crew have a pretty funny way of answering it. (Osanna Vaughn)