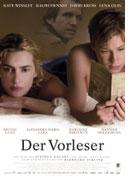 Opening 26 Feb 2009
Directed by: Stephen Daldry
Writing credits: David Hare, Bernhard Schlink
Principal actors: Ralph Fiennes, Jeanette Hain, David Kross, Kate Winslet, Susanne Lothar
Michael is a lawyer, living and working in Berlin in the 1990s. He is played by Ralph Fiennes and tells his story in flashback. When he was fifteen, Michael (played as a teenager by David Kroll) met Hanna, who is thirty-five, and the two quickly became lovers. Michael was too preoccupied with his new experiences to notice that Hanna (Kate Winslet) is a strange, needy and unpleasant individual. She made an odd request of her young lover, asking him to read to her in moments of respite. When Hanna disappeared suddenly and without warning one day Michael felt confused and betrayed.
A few years later Michael is studying law at university. His professor takes him and his fellow law students to watch a trial where a group of women are being tried for Nazi war crimes. Michael is horrified to see that Hanna is one of the group. As he watches the trial unfold he realizes that the woman he has never been able to forget has kept not one, but two secrets from him. Michael grapples with his conscience: should he betray one of these secrets in order to help her? He makes his decision without consulting his professor (Bruno Ganz, who will always be remembered for his role as Hitler in Downfall) or seeming to realize that by protecting Hanna, the guilty person will not be accused of the crime she is responsible for.
Hanna and Michael live out their lives in unhappiness, but Michael eventually makes contact with Hanna and throws her a lifeline of sorts. They only meet once, many years later, and it is after this that Michael decides to tell his story to his daughter, hoping she will understand why he has always seemed distant towards her.
The Reader is too long, too slow and the background music jars, but it captures the dreariness of life in the '50s and '60s perfectly, just as the shots of the rebuilding of Hanna's dreary street and the building frenzy which took place when the Berlin Wall came down highlight Germany's post war miracle. Director Stephen Daldry, screenwriter Sir David Hare and producers Anthony Minghella and Sydney Pollack have not made a Holocaust movie but rather one which shows Vergangenheitsbewältigung, the struggle which post-war Germans have as they try to come to terms with their past. Bernhard Schlink's semi-autobiographical book has come to life on the screen, and the movie will give rise to as many discussions as the very successful novel has provoked. (Jenny Mather)